Tree rush: Orange City turns Greener with saplings planted in lakhs


Nagpur: The July 1, 2016 will go down the history of Second Capital City of Nagpur as Green Day. The Orange City virtually went Greener. A cross section of people including top functionaries of State, Central Government, social organizations, educational institutions, common citizens, students and others in massive numbers participated in the Maharashtra-wide tree plantation drive and planted saplings across the city. The drive is aimed at ensuring that the State gets more green cover. Maharashtra currently has green cover across only 20 percent of the state, as compared to the 33.5 percent required. The depleting green cover is one of the major causes of climate change and it is affecting the monsoon. Over 2 crore saplings will be planted within a day. While 1.50 crore saplings will be planted by the Forest Department, various government institutions will plant the rest. Friday's event launch saw Bhagwat planting a Neem sapling near the Headquarters of the RSS in Mahal, while Bawankule and 10,000 children planted saplings in the catchment area of the Ambajhari Lake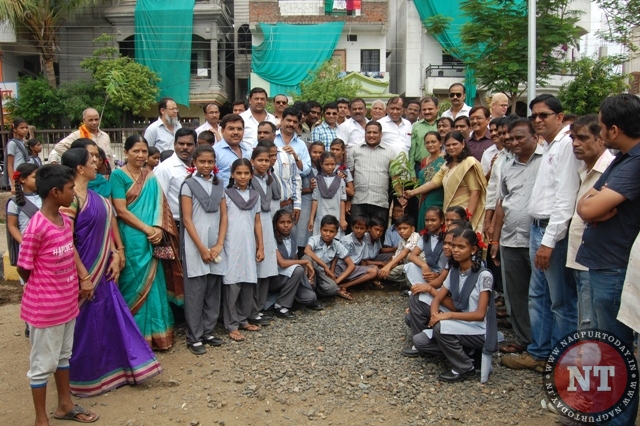 Nagpur Municipal Corporation:
The Mayor Pravin Datke took the lead in city and inaugurated the tree plantation drive at a ground near Bholasingh High School, Hiwrinagar Layout. Other dignitaries present on the occasion include East Nagpur MLA Krishna Khopde, Municipal Commissioner Shravan Hardikar, Health Committee Chairman Devendra Meher, Women and Children Welfare Committee Chairperson Rashmi Fadnavis, a host of Corporators, officials and citizens in large number.
The Mayor called upon the citizens, NGOs, voluntary organizations to take part in the tree plantation drive and make the city greener, free of pollution and beautiful.
Hardikar said the citizens should first start planting trees from residences. The planted saplings must be nurtured with care so that they grow and turn the city greener.
Similarly, a host of office-bearers and officials of NMC planted saplings of a variety of trees at different places across the city.

Divisional Commissioner:
The Divisional Commissioner Anoop Kumar, along with wife Leena and son, planted saplings of Saptaparni, Aaola, Jambhul, Aadalsar, Naru and other trees at his official residence. A host of officials including Additional Divisional Commissioner Arun Unhale, Deputy Commissioners Appasaheb Dhulaj, Kamalkishore Futane and others were present.
Nagpur Metro Rail Corporation:
Nagpur Metro Railway Corporation (NMRC) Managing Director Brajesh Dixit led other NMRC officials in planting trees on Amravati road, which falls along the route of the Metro Rail that is set to come up in the city. The NMRC is expected to plant at least 5,000 trees in the city this monsoon.

Police HQ:
The men and women in khaki went environmentalists as Headquarters of Nagpur City Police and Rural Police planted saplings of an array of 157 species and created an "Anandvatika". The Superintendent of Police (Rural) Anant Rokde led the tree plantation drive by planting a sapling in the presence of Additional SP N T Sherkhane, Probationary Deputy SP Vikram Kadam, HQ Police Inspector Satish Ringne and other officials and personnel.

Central Prison:
Inmates and officials of Open Jail of Nagpur Central Prison planted an array of saplings as part of the state-wide tree plantation drive. Jail Superintendent Yogesh Desai and other officials and inmates enthusiastically took part in the tree plantation drive. Over 2000 saplings of various species were planted. Others who took part in the drive include Deputy Jail Superintendent Kirti Chintamani, Chief Medical Officer Dr Sanjay Nikam and a large number other officials and personnel.

The state-wide programme is expected to be conducted at a massive scale and in a comprehensive manner. In every office premises, 20 saplings need to planted, 10 in each cooperative organisation office premises, 100 in each cooperative sugar mill campuses, 20 in each cotton mill premises and five in each cooperative housing society premises. Besides these locations, plantations can be done at various private firm premises under the corporate social responsibility (CSR) fund.
Police stations:
Police stations across the city witnessed a flurry of tree plantation activities. Police Inspectors of the police stations participated in the drive enthusiastically. Higher officials of city police too planted saplings at their offices.

Mahagenco:
Participating in the State-wide tree plantation drive, Mahagenco officials and employees planted 10,000 saplings in the premises of Koradi Thermal Power Station. A variety of species of saplings including Saptaparni, Aaola, Jambhul, Aadalsar, Gulmohar, Neem, Karanji etc were planted. Interestingly, as soon as the tree plantation function was over, Rain God blessed the saplings with heavy showers.
The chief guest was Mahagenco Director (Project) Chandrakant Thotve. MPCB Regional Officer Nagesh Lohalkar, Chief Engineers Umakant Nikhare, Prabhakar Nikhare, Arun Sonkusale, Anil Deotare, Madhukar Kundalwar, and other officials planted the saplings.