Traffic Department acts tough with erring Autorickshaw drivers

22 Autos seized in one day.
Traffic Department has registered 23,000 cases from January 1, 2014
The fines recovered from erring auto rickshaw drivers alone amount to Rs 24, 68,100/-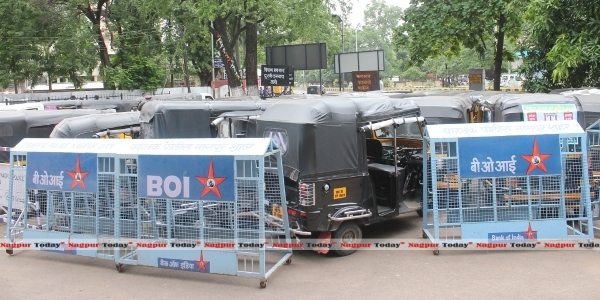 Nagpur News.
Nagpur Today has been highlighting many problems faced by road users like Parking woes, the menace of Auto-rickshaws, traffic cops etc. Nagpur city has seen a spurt of increase in the number of vehicles that ply on the road.
The Traffic Department is often blamed for the accidents, lawlessness, illegal parking etc. However with the limited staff that the Traffic Department have, they do carry-out many preventive and punitive action against traffic offenders.
In one such action, the Traffic Department seized as many as twenty two (22) Auto-Rickshaws who were plying the wrong way from square to the Railway Station. This menace has been going on for a long time. While the Auto-rickshaws used to escape from the cops, since they used to enter the railway station from the southern end, no cop is usually present at that end. However, any two-wheeler who goes the wrong way is promptly held and penal action is initiated against them.
However, this action initiated by the Deputy Commissioner of Police DCP Bharat Tangde and undertaken by the Traffic Police Inspector Ajay Sankeshwari attached with Sitabuldi Branch was really laudable. They seized as many as twenty two autos and took action against the erring drivers. This action has instilled a fear among the auto-rickshaw drivers and they seem to be adhering to the traffic rules and regulations for the past one week.
Nagpur Today spoke to DCP Traffic Bharat Tangde, who said that they have ben very patient and considerate for the past so many days. However, now they have decided to be stern with every erring auto-rickshaw driver. He said that the Traffic Department has registered 23,000 cases from January 1, 2014. The fine recovered from erring auto rickshaw drivers alone amount to Rs 24, 68,100/-.
Tangde added that till date, the Traffic Department used to issue Challans under the Motor Vehicles Acts to the erring auto-rickshaw drivers with a hope that they will reform and not commit the same crime again and again. However, when this did not seem to be working, they have now started to take these erring auto-rickshaw drivers to the Courts. They are now going to charged under Indian Penal Code (IPC) and the court will decide their punishments.