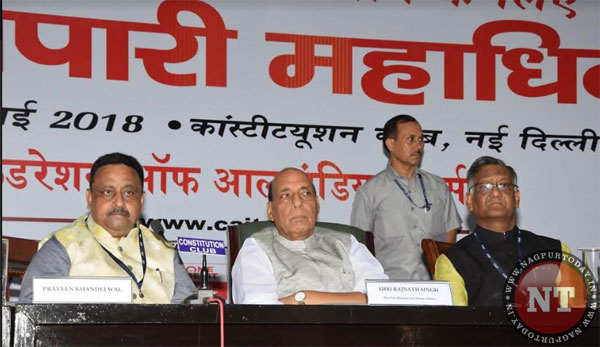 Union Home Minister Shri Rajnath Singh said that in every economy trade and industry pay an important role. They have great value. In fact they are backbone of economic activiteis and artiries of distribution system. If trade closes whole economy will collapse. He said that there are 6.5 Crores of traders and if we allign farmers with them it will become dominating strength of economy.
He further siad that Honorable Prime Minister Narendra Modi has said that by 2022 income of Farmers will double. With increae in minimum support price for agriculture produce the rural income will also increse. This is good news for farmers as well as traders. If farmers have more money at its disposal the traders will get more customers.
Shri Rajnath Singh said that India is fastest growing economy in world. Our economy is 6th largest economy after getting upgraded from 9th in the world. In our economy continues to grow like this, it will be in first 5 biggest economy in the world very soon. In our country there is no shortage of potentiality.
In our country since new govt has come into power GDP is more than the rate of inflation. India has become most preferred destinaton to do business in world. Structural and procedual changes along with ease of doing business has benefitted growth. Make in India has shown growth in manufacturing sector.
Foregin Direct Investment has shown remarkable incrase in these years said Union Home Minister Shri Rajnath Singh. While inaugurating the National Traders Conclave Organised by Confederation of all India Traders, New Delhi at constitution club New Delhi.
Corruption has not been rooted out but has been curtailed and brought under control.
Opening of accounts under Jan Dhan Yojana has helped in financial inclusion of weekar section of society Digitalisation of banking transaction has been given due importance by Govt. Cash is significant but it is to be appriciated that digitisation helps in transaparancy and in ease of doing transactions.
This has helped in Direct Benefit Transfer. E-commerce potential has to be appriciated. Our traders will have to accept e-commerce platfrom to expand their business. Similarly globalisation of economy is a reality and we will have to accept it and get prepared to face it.
Demonetisation was a big decision. The traders inspite of initial trobule joined the Demonetisation movement.
World wide where ever GST was introduced that country faced lot of problems but in our country though their were issues & concerns the sensitive govt took quick steps to remove initial difficulties and accepted the suggestion given to it. He said that govt will continue with amendement whereever necessary. He assured that GST and insolvency code will help in long run.
Earlier B.C.Bhartia National President CAIT welcomed Shri Rajnath Singhji and also proposed Vote of thanks. Praveen Khandelwal Secretary Generay CAIT conducted the proceeding. He raised different issues concerning traders which has been duly replied by the Minister. About 2000 traders from all our the country attended the traders conclave.