Do you like to know everything that's buzzing in Nagpur? Like our page to stay updated!
This Ganesh Chathurthi, various Mandals of Nagpur have gone all out to convey meaningful themes and give out messages to the viewers… it is no more about just pomp and show but this important festival has been used as meaningful medium for social gain. We bring you a selection based on décor, theme and popularity. Ganpati Bappa Morya!!!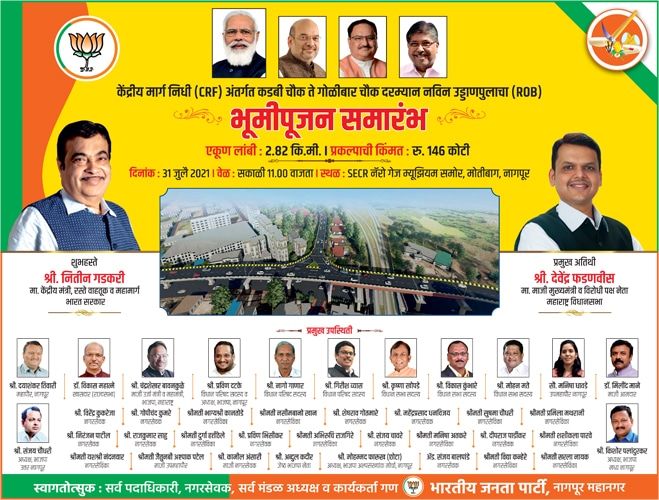 Vidarbha Ka Raja at HB Town


As the name suggests this is the most popular 'Sarvajanik' Ganpati of the city with over 3000 people queuing up for darshan everyday and the evening Aarti. The idol is 31 feet tall and splendorous. ­­­­Organized by the Vidarbha Mathadi Kamgaar Ganesh Utsav, this is only their 4th year, but this pandal has become the key attraction in the very short time. Approximately 1.75 people will partake of Prasad on 14th September! Their daily cultural activities highlight local and Vidarbha culture as the name suggests. Ganesh visarjan will be held at Futala Lake.
President: Satish Chaturvedi
Nagpur Ka Raja at Reshimbagh

Aptly called Raja, this is the 'wealthiest' Ganpati of them all.One can see Ganesh Idol here decked with Gold and Silver. Approximately 3.5 kg of gold and 5 kg silver has been used for making the Idol. Five different married couples perform 'Hom' every evening for peace and prosperity of all.  This is the 20th year of the Pandal.  Ganesh visarjan will be held at Koradi using crane.
President : Deepak Jaiswal

Dharampeth
What's unique about this idol is it comprises of 51 smaller Idols of lord Ganesha in one. Is it to convey the Indian ethos of unity in diversity? The artists who have sculpted this Idol have been called especially from Mumbai. The making of the Idol started 3 to 4 months before Ganesh Festival. This year is the 57th year of the Dharampeth Ganpati. The President is Baba Maind who is former Corporator. Ganesh visarjan will be held at Futala Lake.

Dhantoli 
Shri Ashtavinayak Bahu Udeshiya Sanstha, Dhantoli has created a complex Ganesh Idol  with the theme of rainwater harvesting. They have also taken initiative to spread awareness about this crucial issue through hoardings and flex-boards. The  decor  also highlights the importance of water. Cotton has been used to create a cloud effect.  This is the 27th year of the Pandal. Ganesh visarjan will be held in private artificial water tank.
President: Sanjit Jaiswal (Munna Jaiswal).
Hilltop 
A 30 feet idol of Lord Ganesh, has been installed on a 151 replica of Mantralaya of Mumbai at Hilltop area of the city. The two structures together will make this the 'tallest Ganpati' of Nagpur ! Actually of the whole state. We wonder if it is to denote the concept of Akhand Maharashtra since NCP party opposes Vidarbha quite vociferously? The organization is also called Ekta Ganesh Utsav ! The Convenor of the Mandal is Prakash Gajbhiye who is MLC of NCP in Nagpur. This one clearly seems to be giving out a political message.
President -Prakash Gajbhiye
Cotton Market
To mark the 100 year of Ganesh utsav, Shree Shankar Vilas Sarvajanik Ganesh Mandal decided to launch a book named Shatabdi Varsh Mahotsav at the hands of CM Devendra Fadnavis. The idol here is decked with silver work. It has been brought  specially from Hinganghat. This is the most visited place as there is a fair also organized which is visited by many  Muslim  families apart from others. Ganesh visarjan will be held at Futala lake.
President: Suraj Bhante
Tatya Tope Nagar
Ganesh utsav samiti of Tatya Tope Nagar has focused on eco friendly idol which is like the one at Dagdusheth in Pune. The Pandal has completed 41yrs. The decoration of pandal is eye catching and the theme is Indian art which includes dance, sculptures, poetry and architecture.
President : Girish Deshmukh
Vice President is Karan Bhure
Bajaj Nagar

India is said to be the "land of famers"; keeping this in mind Yuvak Ganesh Utsav Mandal of Bajaj Nagar decided on a Famers theme for their Ganesh pandal for this year. They want to dispel the negative image of disheartened farmers' committing suicide and want to show youngsters how hard a farmer works to feed us and we as a nation, should learn to be grateful. Keeping pollution control in mind, all the flowers, garlands etc.that will be collected over 10 days will be used for making compost and not thrown as 'nirmalya' into any water body. Ganesh visarjan will be held at Futala Lake.
President: Anand Mathankar
Jaripatka

Shree Ganesh Utsav Mandal which is famous by the name of Rudra Ganesh of Jaripatka has completed 21 years. This year also the theme of Pandal is eye catching and amazing as always and based on the God of water (samudra devji). They have kept up a tradition of conducting socially beneficial activities like blood donation camp and free medical checkup camp to help poor people and needy people.
President of Mandal : Dr. Rohit Afrani
Vice-President : Deetesh Mengani.
Sitabuldi
Jai Hindi Bal Ganesh Samaj, Modi no. 2  comes up with a new idea every year. This year there are 2 themes displayed.  The backside of the Ganesh idol the theme is "sacrifice of father"while the front side of the idol shows dangers of using mobile when the user is moving. It probably wants to convey the message that a father sacrifices so much to bring you up, don't throw away your life with unsafe mobile usage! Ganesh visarjan will be held at Futala Lake. This is 41st year of the pandal.
President: Pushpak Khapekar