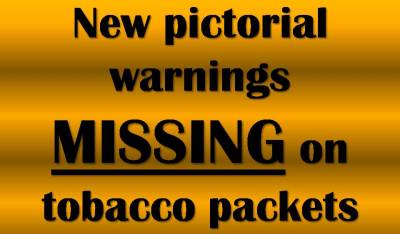 Nagpur News:
New pictorial warning on tobacco products were to be implemented from from April 1, 2013, a Health Organization survey said on Monday that no tobacco products carried new warning in capital.
When Nagpur Today checked this is Nagpur we found none of smoking and chewing tobacco products having the new picture of the health warning.
Tobacco companies have been given ample time to ensure the new picture warnings on tobacco packs but it has not been found to be followed in the city.
The Union Ministry of Health and Family Welfare had issued a notification in September 2012 that the warning had to be carried from April 1st 2013.
Tobacco companies which fail to comply with the rules will have pay up a fine upto to Rs. 1,000; imprisonment up to one year or both under Section 20 of Cigarettes and Other Tobacco Products Act, 2003 (COTPA). Tobacco product manufacturers can face fines up to Rs. 5,000 or imprisonment up to two years or both on the first conviction.