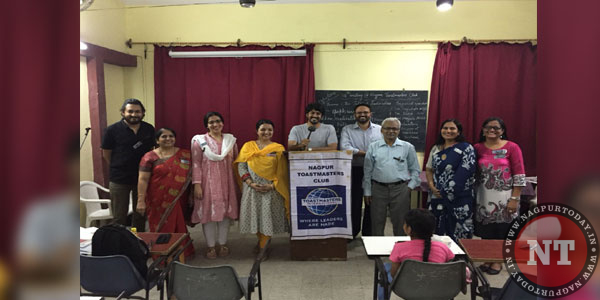 Nagpur Toastmasters Club is a pioneer community club in Nagpur started with the mission of providing mutually supportive and positive training experiences to foster the individual growth of its members. Nagpur Toastmasters Club is a chapter of the Toastmasters International. Toastmasters International is a leading non-profit organization devoted to make effective oral communication a worldwide reality.
Through its various clubs, Toastmasters International helps men and women learn the art of speaking, listening, thinking, enhancing leadership potential, fostering human understanding and contributing to the betterment of mankind. The three topics that are never spoken of at the Toastmasters Club worldwide are Sex, Religion and Politics.
The Nagpur Toastmasters Club commenced its functioning four years ago and has been received very well by Nagpurians. Anyone over the age of eighteen years can become a member. As of today the club members include professionals, students, entrepreneurs and homemakers.
In the 111th meeting the installation ceremony of the club's incoming executive members for the years 2018-19 were announced. TM Subhash Rode was installed as the President. The team members include V. P. Education- TM Niyamat Chimthanwala, V. P. Membership- TM Manoj Dhoble, Joint V. P. Membership- TM Vaidehi Naik, V.P. Public Relations- TM Monica Dixit, Secretary- TM Vaibhav Zarkar, Treasurer- TM Saurabh Muthye and Sergeant-in-Arms- TM Mayuri.
The function was held on 23rd June 2018 at the India Peace Centre Nagpur and was largely attended by Toastmasters and Guests. The Club members meet every 2nd and fourth Saturday of the month at the India Peace Centre between 6pm to 8pm.