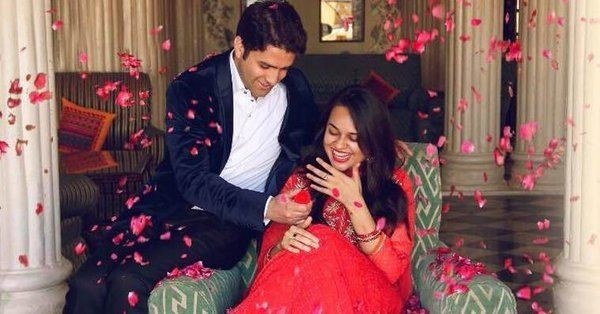 New Delhi: Tina Dabi, the 24-year-old IAS officer who topped the civil services exam three years ago, and Athar Aamir-ul-Shafi Khan, the man from Kashmir who came second in the same exams are now married. According to sources the wedding ceremony took place at the Pahalgam Club.
According to reports, the two toppers fell in love when they were undergoing training at the Department of Personnel and Training office in Delhi. However another report claimed that the duo met during their training at Lal Bahadur Shastri National Academy for Administration in Mussoorie and fell in love. It was like they met in the morning and fell in love with each other by the evening, said a source. However they revealed their wedding plans in November last year.
I'd like to talk to you about our wedding.
Athar and I got married on 20th Marchby in Jaipur by Collector Shri Siddharth Mahajan.
Then we planned two wedding celebrations. The Kashmir celebration happened recently. The Delhi wedding celebration will be held on 14th April. pic.twitter.com/IlLk3pSwVi

— Tina Dabi (@dabi_tina) April 9, 2018
Meanwhile, the groom's family hosted a reception in his hometown in Anantnag's Mattan on Sunday. Another round of celebrations will held in Delhi on April 14, Ms Dabi tweeted.
The 2015 UPSC exam results shot topper Tina Dabi (24) to fame as she became the first Dalit woman to top the highly-competitive exam. Not only did Dabi top the exam, she did so in her first attempt itself. Weeks later, Dabi was making headlines again – this time for her relationship with Khan (25) who had bagged the second spot in the same exam.
While the families did not oppose their decisions, they faced a lot of flak from religious fringe groups, especially on social media. Some fanatical groups even called it a case of love jihad as Dabi is a Dalit woman and Khan a Kashmiri Muslim. Some outfits even wrote to Dabi's parents to stop the wedding.