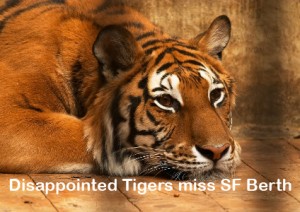 Nagpur Sports News: Although Gupta Tigers defeated Team Grace 2-1 they lagged behind in goal difference and made exit from the third edition of Lokmat's Nagpur Premier League (NPL) Football Tournament at Yashwant Stadium on Thursday.
Thus Meghe United and Abhijeet Lions with eight points each have qualified for the semis from group one.
In the first semi-finals to be played on Saturday , Meghe United will lock horns with Satvik Bulls at 5.30 p.m. while defending champion Sunil HiTech Warriors will take on Abhijeet Lions at 8 p.m.
Gupta Tigers got a early lead in the eighth minute when Shahbaz Pathan scored an excellent goal on Nigerian striker Uzor's pass. In the 23rd minute Tigers had an opportunity to double the score but Uzor's free kick dashed against cross bar. However six minutes later he made amends and increased the lead with a spectacular goal beating a wall of defenders.
Team Grace who were playing for pride reduced the deficit in the 37th minute. Thanks to their professional player Mazhar who scored excellent header.
Gupta Tigers who required two more goals to maintain better goal difference lacked power and planning. Their foreign players were seen delivering their best but hardly got support from other players. In the 59th minute Team Grace striker Chibuzar missed an opportunity to level the score as his spectacular bi-cycle kick dashed against cross bar.
Tigers also wasted couple of opportunities. First John Nanna's kick sailed above the cross bar in the 62nd minute and then Uzor's kick directly went into the hands of rival goalie Faizur Akhter.
Bojomo Emanuel of Gupta Tigers was declared man-of-the-match. Imran-Ul-Rehman of Team Grace was also honoured.