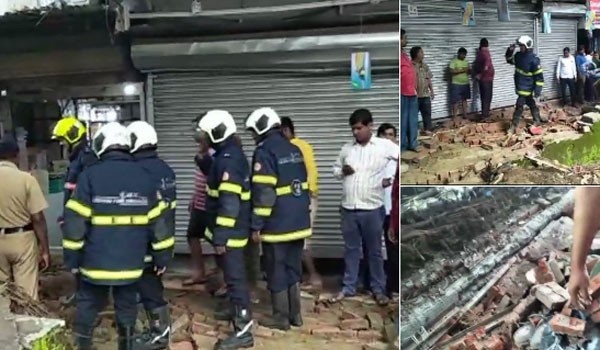 Mumbai: Four people were injured when a railway compound wall collapsed at Kurla Station, one of the busiest stations of Mumbai. The railways compound wall collapsed near Platform Number 1, near Rammahal Hotel, Hariyana Lane, Kurla West. However, railway traffic was not affected so far. The four injured and admitted to Kurla Bhabha Hospital are Siraj, Lakhan Khatal, Laxman Patil and Amir Kasin and they are said to be stable. BMC is working towards removing debris from the lane that caters to pedestrians.
"It was an accident. We have filed an incident report," senior police inspector of Kurla police station D. Shinde was quoted by The Hindu as saying. Residents told a daily that they had complained about the wall when it started leaning to one side but the authorities paid no heed.
This Tuesday, a portion of a bridge collapsed in South Kolkata's Majherhat area on Tuesday, toppling several vehicles and trapping people in the rubble. As per eyewitness accounts, five people were feared dead initially though later the official number came down to three. Reacting to the incident, Prime Minister Narendra Modi had said, "The collapse of a part of a bridge in Kolkata is deeply unfortunate. My thoughts are with the families of the victims. I pray that those who are injured recover at the earliest."
Chief Minister Mamata Banerjee said the first priority is to rescue the injured and those who are trapped. The government formed a committee headed by the Chief Secretary to probe the collapse. The CM also said that as many as 20 bridges had been identified as unsafe.