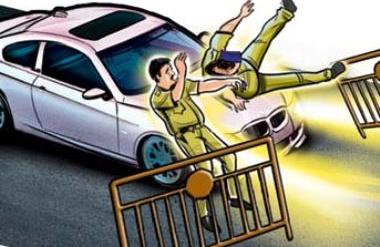 Nagpur News:
The assaults on policemen have been witnessed in increasing trend as two more policemen became victims of three goons.
According to police, police constables Vijay Yadav and Nitish Kumre were on duty and patrolling in Kalamna area riding their Charlie motorcycle. At around 2000-2015 hours on July 28, the two policemen spotted three youths on a Hero Honda Passion Plus (MH-40/M 8140) near Raliance Petrol Pump on Lord Shani Temple Road. When the two policemen signaled them to stop. However, instead of stopping, the youths started speeding away. The speeding away aroused suspicion in the minds of the two policemen who too chased them and succeeded in stopping them in Tulsi Nagar, Kalamna Check Post.
However, the policemen's success in nabbing them took an ugly shape as the three youths suddenly attacked the policemen Vijay Yadav and Nitish Kumre with fisticuffs and abused them in choicest words. The three accused even tore apart the uniforms of both the policemen. However, the undeterred two policemen anyhow caught hold of them and took the goons to Kalamna Police Station. The Kalamna PSI Vaidya booked the three youths Dinesh Babanrao Ninave. (23), resident of Chintaman Nagar, Gittikhadan, Pankaj Rajkumar Khobragade, (20), and Aakash Shivdas Badwaik (20), both residents o Gautam Nagar, Nagpur under sections 353, 323, 504, 34 of IPC and arrested them.