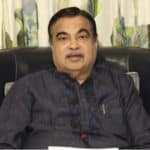 Nagpur: Gangster Jayesh Pujari, who had made multiple extortion calls to Union Minister Nitin Gadkari's office in January, approached the Nagpur Bench of Bombay High Court praying for his transfer back to Belagavi's Hindalga prison in Karnataka from the Nagpur Central Jail.
Through counsel Nitish Samundre, Pujari contended that his family members stayed at Belagavi, and even the criminal trials against him were pending at the JMFC court there.
The vacation judge Govinda Sanap on Tuesday issued notices to the respondents including the Maharashtra Government asking them to reply within two weeks. The Nagpur police had earlier sought his custody on March 29 after he made calls for extorting Rs 100 crore to the minister's office.
Facing the murder charges, Pujari was awarded life imprisonment and is also involved in two more criminal cases.
Notably, a special team of National Investigation Agency (NIA) was in Nagpur for investigation into the threatening phone calls made to Union Transport Minister Nitin Gadkari. The investigation team has been led by a Deputy Inspector General (DIG) rank official.
The calls were made by a murder convict Jayesh Pujari alias Kantha, who was arrested by Nagpur Police from a jail in Belagavi, Karnataka. The NIA has registered a case at Bengaluru in Karnataka and the Mumbai team of the agency was directed to conduct investigation.
On January 14, Pujari made a threatening call to Gadkari's public relations office, demanding Rs 100 crore and claiming to be a member of the Dawood Ibrahim gang. He made another call on March 21, threatening to harm Gadkari if Rs 10 crore were not paid. Pujari was brought to Nagpur on March 28 from a jail in Belagavi city of Karnataka State, and the Unlawful Activities (Prevention) Act was invoked against him. After receiving green signal from the Union Ministry of Home Affairs, the NIA officials launched an investigation on terror angle as Pujari had relations with dreaded terrorists including Lashkar-e-Taiba's South Division chief Captain Naseer.