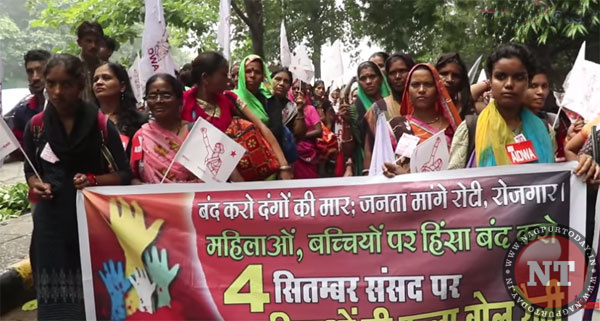 New Delhi: Thousands of women descended on Delhi from all over the country. They came by bus, trains and also trekked long distances on foot and then walked in torrential rain with grit and determination. Carrying tired babies, bare foot or in torn chappals, lugging bags with some clothes and food, the women traveled to the national capital from 23 states to ask for gender security, food security and job security.
Shouting "haat me kaam do, kaam ka pura dam do" (Give us work now, and pay for it in full) the women are getting desparate enough to travel all the way to the national capital, where at least, they hope they will be seen, and heard! They know exactly what they are marching for. There is no ambiguity, no mincing of words. One Citizen reporter walking through the orderly lines says she was surprised at the political determination of visibly poor women, many of them landless labourers, and all having a story to tell. Stories of hardship made worse by price rise, and the linking of ration cards to Aadhar cards which have deprived many of the one source of cheaper food that had earlier been available to them.
Video Credit : News Click
All India Democratic Women's Association president Malini Bhattacharya told media persons – the very few who were there! – that the three primary demands were:
– Arrest those responsible for the increasing violence against women and children instead of letting them go scot free. This includes the vigilante groups attacking and lynching men in different parts of the country. This has to be stopped and justice and compensation given to the victims.
– Delink Aadhar from ration cards. Families have been impacted by this stipulation, with people dying of malnutrition and hunger as large sections of the poor do not have Aadhar cards. Universalisation of rations is a must.
– Women should have access to dignified labour. And wages in direct proportion to the work. Job security should be ensured as at present women are the most discriminated against in the job market.
Writes Citizen :
Surprisingly – or perhaps not so – despite the huge numbers of impoverished, visibly poor, and yet determined women marching for their rights on Parliament Street, in the heart of Delhi, the big television channels and media looked the other way. With a couple of exceptions at most the march and the demands were ignored, in yet another concerted blocking of news.
Among the thousands of women who were part of the morcha, three had come from Palghar in Maharashtra, traveling with just Rs. 200/ among them.
Reports Newsclick, one of the few who reported this morcha: "It was well after midnight, however, three women who came from Palghar, Maharashtra to the national capital, were still awake in their tent. Tulsi Babu Bhagat (82), Jamani Ramavalavi (78) and Marchu Malaji Bhimra (78)- these three old women had left their homes with only Rs 200 despite knowing that is not enough for their four-day stay. "
The three women work as Anganwadi helpers and have not been paid since four months.
Said 82 year-old Tulsi , "I had borrowed Rs 200 from one of my neighbours and came to Delhi to witness the massive protest. We want to show our pain to this fascist government who is not ready to listen to our problems. Why would we travel over 1500 km if we get our basic necessities? I do not have the energy to travel in train anymore but alas, this government is deaf and dumb."
Jamani Ramavalavi, while humming a Marathi folk song, questioned why this government is anti-farmer. She said, "Mokhada and Jawhar talukas are two rural areas which are the worst affected in terms of malnutrition and starvation. More than 1,600 people have died due to malnutrition and starvation in the past two years."
"Another major problem which we are facing is ration supply. Recently, the government has set up biometric measures for the same. We have to punch our thumb before getting our ration but if sometimes our thumb does not match with the one in the Aadhaar Card, they refuse to give our ration. Why don't they understand that working in the field our thumb becomes rough and does not match up? It's not our fault but they deny us ration and we are forced to purchase it from the shop," Ramavalavi said.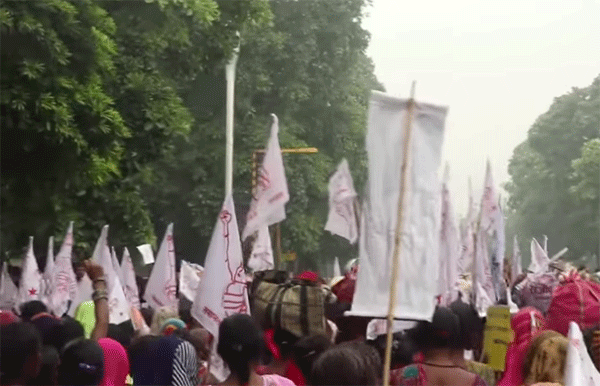 Writes Business Standard ; This is protest season in New Delhi. On Tuesday, thousands of women, under the banner of All India Democratic Women's Association, marched on the rain-soaked roads to Parliament Street to protest the failure of the Modi government to curb violence against women and create more job opportunities. On Wednesday, workers and farmers will march from the Ramlila maidan to Parliament Street.
A huge chunk of these protesters, under the banners of Centre of Indian Trade Unions, All India Kisan Sabha and All India Agriculture Workers' Union, made their way from the New Delhi railway station to a muddy Maidan on Tuesday itself. Civic authorities have charged Rs 200,000 as day rent for the ground. The organizers of the march, however, couldn't decide if the rains were a curse or a blessing in disguise. While the cloud cover made marching less tiring, the muddy ground made resting difficult.
Many women, who had their children with them, were carrying only a sparse supplies of 'chutney and bhakar' as sustenance for 3 – 4 days.
"Are our children also fated to eat this poor fare all their lives, just like we did?" they ask.
Don't they deserve a better future in 'fast developing India?'