Nagpur: The Second Capital City of Nagpur, popularly called Orange City which is soon going to be a 'Smart City,' greets thousands of visitors the "best way." Not with the juicy oranges but with poor roads. The ugly face of roads is reflection of nasty affairs being run in Nagpur Municipal Corporation. The mess is also the hallmark of lethargic babus coupled with shoddy work by contractors. Forget visitors, the citizens of "Amchi Nagpur" are the tormented lot as they are the ones who have to use these pathetic roads.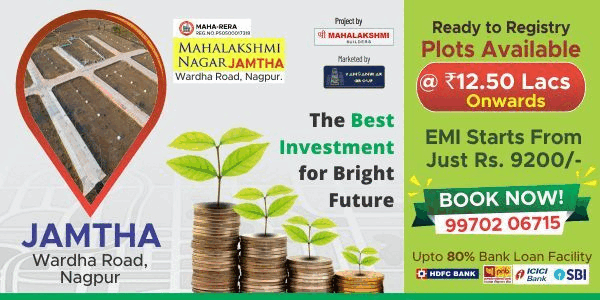 Replete with deep pits and pot holes, the responsibility of maintaining and repairing of roads lies with NMC. The local body is carrying out this task since years, of course, pathetically. And crores are spent for this purpose. The contractors too play their nasty "games" to bag orders years after years. The modus operandi is to carry out road construction the shabby way and do it again and again. The "commission" factor too plays its role in keeping the babus and ruling party office-bearers. The victim all these shady situation is the road and bearing the brunt are the citizens.
Every year construction and maintenance work on the roads start just before the onset of the monsoon. This period is chosen for a particular reason. While the contractors use very substandard material in the job, but once the water starts stagnating on the road in the rainy season, they have good alibi to blame the nature and escape accountability about the use of poor material.
This year, the first showers of rain exposed the blatant corruption by the contractors, who used very poor material that led to early depletion of the roads. But shockingly the NMC Administration has not "found any potholes" and hence has not come out the figure. It is the problem of plenty.

Strewn with up to one foot ditches, if the bad condition of the road here is a resulting in jerking of knees to the two-wheeler riders, the risk of four wheelers toppling in these ditches always run high.
The working of the Committee set up to conduct probe into allegations of inferior quality road works and preparing suggestions to improve their condition, has itself come under cloud. Mayor Pravin Datke had constituted the panel after corporators from almost all political parties levelled allegations in the general body meeting held recently. The committee has neither come out with report on the bad condition of roads nor blacklisted the guilty contractors.
The citizens who face a number of problems on the poor roads feel cheated as they argue that the committee was constituted only to prevent action against contractors and engineers involved in the scam. All roads on which inferior quality of works was done were found "clean" by the committee.
The pathetic condition of roads across the city has led to increase in fatal road accidents. The fact could be corroborated with the figures the media flashes out almost daily, without fail.
– Rajeev Ranjan Kushwaha ( rajeev.nagpurtoday@gmail.com )