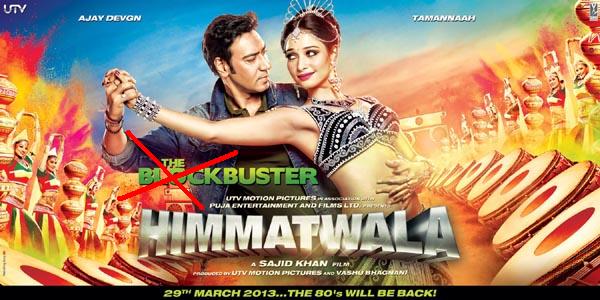 Cast: Ajay Devgn, Tamannah, Paresh Rawal, Mahesh Manjrekar, Zarina Wahab
Director: Sajid Khan
Plot: The Himmatwala of 1983, itself a remake of a Telugu blockbuster, was a comic actioner typical of its era. Villages with their 'bechara gaonwalas' and evil thakurs were leaving Bollywood's landscape, but slowly. So Jeetendra and Sridevi did jhatkas on beaches filled with techni-coloured matkas. One classic scene had the nicely- filled out Sri in a one-piece swimming costume squealing loudly in a pond with her sahelis. In other places, Sridevi wore tight 'pedal-pushers' (remember those?). And Jeetu in his high-waisted trousers and white shoes matched steps with Sri, and rescued his 'dukhiyari' 'ma' and long-suffering 'behen' and the put-upon villagers from their sad fate. Where in this Himmatwala everything has a young tone even the "maa-behen" may get scared of and need himmat.
The story goes like this when Ravi (Ajay Devgn) is an action master, who earns his livelihood by showing his muscle power at a club run in Mumbai by an ardent fan of Pop Legend Michael Jackson- Michael Jaikishen (Chunky Pandey). And on one odd day, the son of Rampur, Ravi decides to visit his birthplace. He goes in search of his grief-stricken mother Savitri (Zareena Wahab) and sister Padma (Leela Jumani), only to find them in dire straits. And that is when his mother narrates to him the tale of her miseries.
Savitri wants her son Ravi to settle the scores with Sher Singh (Mahesh Manjrekar), the merciless landlord, who has used his position and wealth to suppress the villagers. Sher Singh, the greedy zameendar, is assisted by his brother-in-law Narayan Das (Paresh Rawal). And at his mother's behest, Ravi is all set to avenge his enemies.
The comedy sequences do their bit and so do the breathtaking action sequences. Fans of Devgn can look forward to his fist fight with a tiger and get swayed into the world of fantasies. But the portions where Zarina Wahab mouths "sentimental" dialogues (though they are meant to make you go teary eyed), you can't help but burst into laughter.
Themusic os okay, however songs 'Naino Mein Sapna' and 'Taki Taki' are refreshing. But the 'Dhokha' song featuring divas from the television world looks forced.
The film has just one star that makes you smile not giggle nor laugh its Paresh Rawal.
Verdict: March ending save money, April starts don't become a fool .Save Himmat.
One star to Paresh Rawal & Tiger.
: Yash Raj Trivedi