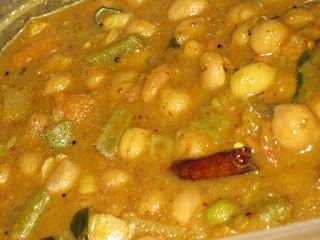 Popularity: Puli Kootu is also referred as 'Thiruvadhirai Kootu / Thiruvadhirai Puli Kootu / Ezhu curry kootu (meaning : kootu prepared with 7 vegetables)' by the Iyers. Iyengars refer this as Pulippu Kootu / Puli Kootu.
Generally this kootu is served as a combo with Kali for Neivedhyam on the day of Thiruvadhirai by all the Iyer Families. This should be prepared with odd number of vegetables. Say 5, 7 etc and one should use native vegetables to prepare this (called as 'Naatu Karigai').
Ingredients:
Vegetables: You can use any of the below mentioned vegetables in combination (either 5 or 7, etc) : All vegetables mix can be 500 gms.
a.       Pooshanikkai (White Pumpkin)
b.      Avaraikkai
c.       Vazhakkai (Plantain)
d.      Pacha Mochai Payaru (Green Mochai)
e.      Kathirikkai (Brinjal)
f.        Yam
g.       Potato
Salt
Tamarind: Size of a small lemon
Cooked Toor Dal: 1 big ladle
Red Chillies: 6
Coriander Seeds: 2 tsp
Gram Dal: 2 tsp
Coconut (Grated) : 1 small cup / 50 gms
Curry Leaves
Mustard: 1 tsp
Oil: 3 tsps
Asafoedita: A Pinch
Turmeric Powder: A pinch
Jaggery: 1 tsp
Water
Preparation Procedure:
In a Kadai, add all the vegetables, a pinch of turmeric powder and boil them with water and Salt.
Extract all juice from tamarind by squeezing tamarind in warm water (say 200 ml)
When the vegetables in the kadai are half cooked, add tamarind water to the kadai.
In a separate Kadai, add 2 tsp of oil and roast the red chillies, gram dal and coriander seeds to light golden brown colour.
Grind the above roasted mix with grated coconut and few pinch of asafoedita and 2 or 3 curry leaves in the form of a paste by adding little quantity of water.
When the vegetables are 3/4th cooked, add the above paste to the kadai and keep boiling.
Finally add the cooked toor dal after mashing the dal well and then add jaggery and keep stirring.
Add few curry leaves and then season the kootu with mustard and asafoedita.
Note: You can choose to increase or decrease the water quantity during cooking depending on whether you want thicker or watery gravy.