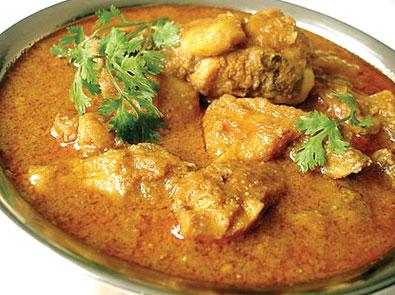 This recipe is:
Healthy
Diabetic Friendly
Prep: 20 min. Cook: 5 hours Yield: 4 Servings
Ingredients
2 medium potatoes, peeled and cubed
1 small onion, chopped
4 boneless skinless chicken breast halves (4 ounces each)
1 cup light coconut milk
4 teaspoons curry powder
1 garlic clove, minced
1 teaspoon reduced-sodium chicken bouillon granules
1/4 teaspoon salt
1/4 teaspoon pepper
2 cups hot cooked rice
1/4 cup thinly sliced green onions
Raisins, flaked coconut and chopped unsalted peanuts, optional
Directions
Place potatoes and onion in a 3- or 4-qt. slow cooker. In a large nonstick skillet coated with cooking spray, brown chicken on both sides.
Transfer to slow cooker. In a small bowl, combine the coconut milk, curry, garlic, bouillon, salt and pepper; pour over chicken. Cover and cook on low for 5-6 hours or until meat is tender.
Serve chicken and sauce with rice; sprinkle with green onions. Garnish with raisins, coconut and peanuts if desired. Yield: 4 servings.
Nutritional Facts
1 serving (calculated without optional ingredients) equals 396 calories, 11 g fat (7 g saturated fat), 63 mg cholesterol, 309 mg sodium, 43 g carbohydrate, 3 g fiber, 27 g protein.
Diabetic Exchanges: 3 lean meat, 2-1/2 starch, 2 Fat.