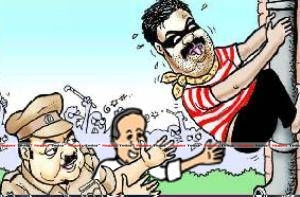 Nagpur: News.
Alert traffic police at Ganeshpeth bus stand foiled criminal's attempt to flee by giving slip to police. Traffic police nabbed three among two within minutes after they jumped out of the window from a ST Bus near Bus stand.
The 'live' filmy scene took place on Saturday afternoon witnessed by hundreds of people around bus stand.  After few stunts and a short chase, traffic police were finally successful who helped Wardha police to nab two thieves- Bunty alias Shailesh Hiranwar, 20 and Kalu alias Suraj Masram, 23, both resident of Kachipura.
Wardha police has brought Hirnawar, Masram and third partner Macho alias Suraj Dhoke, 22, a resident of Jaitala to produce them before court in a major theft case.
The incident took place while police were taking all three back to Wardha. All three accused boarded the bus to Wardha and were surrounded by Wardha police. However, the trio jumped out of the window when the bus slowed down near ST Maha Mandal square.
Traffic cops deployed nearby witnessed the trio trying to flee and caught them immediately after a short chase.
The third partner Suraj Dhoke was caught in Sitabuldi area.