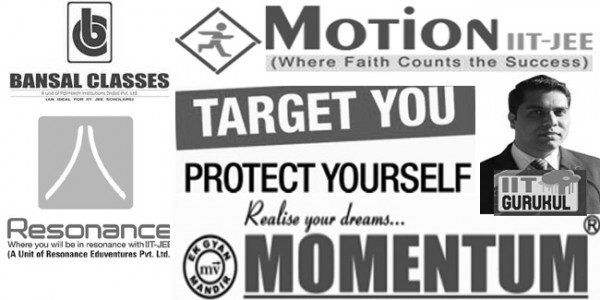 Nagpur News: So you're all set to appear for screening of the coaching institute of your choice that will land you into their regular classroom programs for hitting at engineering and medical entrance examinations. But did you take a halt and gave a cool thought over what exactly are you going to yield against paying hefty sum of money? Do you think the amount as big as staggering Rs 2 lakh for a two year IIT mains and advance entrance programs, really worth? Are you sure that the coaching class you have just landed up would pave your way to your dream engineering institute?
"These coaching centres are actually becoming a portal for money! More amount we put in we get more attention. Many of our famous scientists never had gone to tuitions and yet achieved Nobel prizes,so these classes are only a name and running their business."
-Dhairya Shinde(preparing for AIEEE)
"It really consumes our lot of time and the fees of coaching classes are really high for those students who wish to attain knowledge and really but can't afford it."
-Dimple Menda (preparing for AIEEE and NEET)

Nagpur Today delves deeper into the reality behind the tall claims made by so called branded institutes.
To begin with, the institutes that are trying to stand tall amongst each other include Motion, a new entry that claims sound selections to IITs, Resonance, Bansal Classes, IIT Point, Momentum, Impulse and the infamous Pawar Sir's IIT Gurukul which last year through its hoardings made an unbelievable claimed – Get selected or your money back…!!! Can anyone ask Pawar Sir what happened to his claim?
"The class teachers are too selfish, they can do any cheap stuff for earning more money! They  tempt us with various dreams that they will give you their best teaching during the exams but as their 1st priority is money, so besides helping us during our exams they use to be busy in teaching next year batches of entrance class!"
-Anshul dadure (preparing for NEET)
"Entrance exam creates a competitive spirit amongst the students. But one should never forget the fact that if race has a champion, it also has several injured players as well! The great loss lies in neglecting 12th board studies and participating in the Race of entrance examinations. A package  (combining) of H.S.S.C + ENTRANCE EXAM is a need of the hour."
-Sandeep Pathe, Architecture student
Flooded with offers
The coaching institutes claiming to have better results and teaching methods than each other have mushroomed like nothing. The city is clustered with print advertisements and hoardings at prominent places, inviting their 'target' students to join them. The preparations for IIT-JEE and NEET range for the duration as short as seven days to full time two years program. For the two year full time program the fees being charged by these institutes goes anywhere in the range of Rs 1.5 to Rs 2 lakh. So tall are the claims that a hoarding installed by Motion institute underlines its percentage of selections with guts. However, going by the strength of students the institute holds in its branches across the cities, the percentage stands too dismal.
"I don't know how one can judge the capability of a student in just 60 seconds. Entrance Exam is all about time limitations. A limited time is all you get to show up your knowledge with all the parental and peer pressure hopping in your mind."
-Aditi Agrawal, Architecture student
The education minister should pass some law such that any entrance exam shouldn't be conducted, which would be very helpful and time saving for students. Due to entrances exams students are not able to concentrate on their boards studies.
-Bhavishya Waghwani, 12th Std student, Hislop College.

Registration Fee above Rs 1000!
All of these institutes are charging Rs 1000-Rs1200 in the name of registration fees for appearing in entrance test for admission to their classes. Neither they provide a firm trustworthy set of study materials nor any books that could justify this cost. Only a single form with prospectus is handed out to students. Lakhs of forms have seen sold at the counters of these coaching institutes which mean huge earning for the institutes even before students start learning into their institutes.
There is a need for shortcuts and tricks in entrance, there are need for guidance, A study material can provide all that but it's not about just reading the shortcuts, it's about the application, so that is what an experienced teacher can teach! We can interact with other students and can sort out many problems through group discussions.
-Farhan Pasha,12th std student,SKPC kamptee.
Competition is now-a-days a synonym to success. A phenomenal success with a right perspective can lead a student to bright future. But in course, it's very imp that the students understand the exact inference of all these exams and not pressurize oneself for the worse.
-Amruta Vaidya, Architecture student

Scholarship's just a lollypop
When Nagpur Todaycountered Resonance – a Kota based institute running classes at two places in Nagpur, they informed that the coaching institute offers scholarships from 10 to 90 percent in the form of discounts to the students. The more the student scores in test, the more will be the discount. However, like all the institutes, Resonance too does not reveal who has scored how much in such tests. The students are randomly informed about the percentage of scholarship they earned. This is clear game of numbers in which the students are kept in dark. Or is it just a part of sale strategy to gather maximum concentration of students who ensure money for them? Resonance is not the only one, but all the institutes like Bansal Classes, Momentum and others offer scholarship programs for the students. However the big catch is that the students only know about his performance from the piece of word extended to him by the teachers at these institutes. On what basis do a student judge whether the information provided the teachers, is true or not? Is there any fool proof mechanism for the students to get an exact idea of the rank he scored among all the students? The reason why the institutes hide the performance of students in their entrance test clearly lies in the fact that the sole purpose behind such an offer is just to earn money.
As a victim myself I won't hesitate to say that one must judge his or her caliber before investing time and the heavy money charged unnecessarily by the coaching institute. It becomes nearly impossible to keep bouncing between college and coaching classes and the pressure induced is no less. We cannot deny the fact that these entrance exams are the judging criteria that guide us to our better future but a system could be adopted where in the studies for the college/schools can be collaborated with that of the entrance exam and the work load can be reduced to 50%.
-Neerujaa Gupta, Architecture student
The institutes do play a role in cracking JEE but sometimes they mislead students onto thinking they can crack JEE, without providing a proper analysis of their caliber. Most important I feel is the amount of clarity in the teaching of the course and the students intellect plays the most important role as far as JEE is concerned
-Sachchit Chaudhary, Student

Brand rules over faculty
Digging deeper into the faculty system into many of these institutes revealed more shocking facts. Most of the institutes have got a brand name for themselves and selling the franchisee across the cities, some of which are running in Nagpur too. The faculty members which are claimed to have been trained are actually just for the name sake. Only a handful of teachers possess an appropriate level of qualification while rests are just hired ones to maintain the number of faculties in order and also to cope up with the exhaustive number of batches being run each day. However, the concerned incharge claimed that the teachers are sent to their head offices for training, prior to pitching him before the student. But how can a week of training session for teachers change their way of planning the methods of teaching? Any answers?
These institutes act as catalysts in getting students to crack IIT. They are not actually required, they just help students by mandating practice of problems by applying concepts, which is the basic necessity to prepare for Jee. Even without these institutes its possible to crack competitive exams.
– Anushree Thatte, Architecture Student  
Commercialization is acceptable, but only to an extent. Having 100 students in a class is in no way going to help out anyone but the tutor(monetary), specially weaker ones.
– Saakshi Gurubaxani  

Attending Schools have become just formality
As most of the students who have appeared in class X examinations and looking forward to both 11th class and JEE preparations, often find it hard to manage timings of their schools and coachings. But yes, these institutes have cracked this problem too. Most of these institutes have tied up with some of the well known schools in Nagpur that allow students to take 'dummy admission' (as is told by Bansal Classes) in these schools. The dummy admission means the students do not have to attend the classes but they can appear for examinations. The institutes claim to cover up entire syllabus in the coaching classes itself. This clearly debars the students from the actual school atmosphere thus hampering their overall development. Some of the institutes provide day boarding along with 'schools' at their disposal. And in return the students have to shell out the whopping sum of money.
Coaching institutions are hampering the sanctity of the education system. It is eroding one's belief in institutions such as schools, as the teaching in school is taken for granted and is considered as of "low level" as compared to the lessons taught in institutions. But the fact remains that the lessons learnt in schools remain with us for life.
-Ajit Barhate
The current scenario demands 'survival of the fittest' and hence the rat race COMPETITION. But I feel coachings are no option to this situation, because along with it comes a lot other deal of complexities peer and parental pressure, need of EXTRA time and money to spare.
-Adwait Limaye, Architecture student
There are very few, who actually teach. Almost every coaching has now become an element of minting money. There are very few who actually help and genuinely coach. They do help to a certain extent. As, in order to shape a students' brain and function his or her ideas aptly but not in a way of teaching them every single thing, they aren't a mandatory thing, there are children who pass these entrances without any coaching, if they have brains and hard work to do.
-Urmi Chakravorty
These coaching classes help us but only 50%. Moreover 50% is our own dedication towards the subjects and aim we are willing to achieve. They basically offer good tricks to carry out the calculations quickly since 80% of the paper is filled with numericals.
has become a business. It's a hearty request to tutors, don't prove us right!
-Simran Sehgal, 12th Std student, Hislop