The Lunchbox: Nuanced romantic tale of simple lives
Cast: Irrfan Khan, Nimrat Kaur, Nawazuddin Siddiqui
Director: Ritesh Batra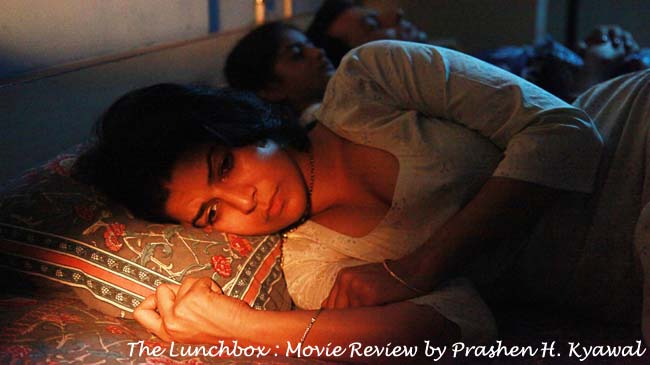 There is an encouraging change in the film industry since few years. Successful and reputed media houses and corporate are wholeheartedly supporting and promoting small independent films. They are providing new age film makers a platform which enables their films to reach to the audience on a wider basis. In result, this is aiding in educating audience on film appreciation and exposing them to larger spectrum of films on offbeat subjects. Amir Khan with Kiran Rao, Karan Johar, Anurag Kashyap and UTV must be applauded and thanked for this. It is very encouraging to see all these people join hand together on such projects and make sure they reach the audience.
A very happy change indeed.
There are a dozen or so producers behind this incredible movie "The Lunchbox" along with all the above mentioned big names. I thank everyone behind this movie for giving it the release it deserves. Coming back to reviewing the film, I think it will be a short review because this movie needs to be experienced and enjoyed personally. I will not give anything about the plot or the story because I wish you watch the movie without any idea about it as I did. It's my guarantee that you will not be disappointed.
It is a story of millions of people in this country with routine and boring life. A simple change in the routine caused by an error or so can make it worth living the rest of the life. The change acts as a catalyst and adds a little chaos to the established order. It soon become disruptive enough to force the protagonists to embrace positivity and optimism. There is no melodrama in the film but it is high of emotional content which connects the audience to the characters. The relationships are real and believable.
The film is written and directed by Ritesh Batra. This film is a shining example of how film writing and film direction should be. A strong screenplay including a character which is invisible throughout the film but is integral part of it lays a great foundation for the director to excel. Ritesh has written the film for screen and his exemplary Direction gels very smoothly with the screenplay to give a wholesome experience to the audience. He shows excellence in screen writing as well as Direction and proves his deep understanding that cinema is a visual medium. His impeccable narration style engrosses the audience as soon as the film starts. The light and happy vibe of the film even while showing boring and torturous routine life of Mumbai brings a smile on your face and keeps it glued to the proceeding. Strong writing and direction makes sure that audience is eager to know what happens next and presents the further proceedings in entertaining fashion. Kudos to Ritesh for his work. He deserves all the accolades which will be coming his way.
Production quality of the film and cinematography by Michael Simmonds is apt for the content and presentation of the story. Cinematographer has captured the essence of Mumbai life in his camera and made it alive on celluloid. Every nuance and attention to detail gives the film the authenticity and texture it has. Editing by John F. Lyons is very good and maintains the needed pace as per requirement of narrative style chosen by the Director.
This film stands tall on the basis of superlative performances by everyone in the cast. Irfan Khan lives the character of Fernandez. From a bitter, rigid person rusted by the monotonous routine to a person discovering the goodness around to a liberated old man, Irfan Khan proves that he is master of his craft.
Matching up to the performance by Irfan, Nawazuddin Khan Siddiqui carves his character of a new recruit with required enthusiasm and naivety. His relationship with Irfan warms up as Irfan opens up slowly to the positivity around. The progression and chemistry portrayed by both of them is a must see.
The Lunchbox is a romantic movie where you won't ever see the lead pair together on screen. The heroine's character is of a regular housewife accustomed to Mumbai style of living. Her busy life taking care of her daughter and husband gets refreshing change brought up by the lunchbox she prepares for her husband. This role of Ila is played by Nimrat Kaur. She acted very well and is completely natural. Though she is sans makeup and dressed like any common toiling hard in kitchen, looks sensuous. Two thumbs up for her performance.
A special mention must be given to Bharati Acharekar who has the role of heroine's neighbour. Her voice is unique and recognisable. She had a challenge to portray the character only through voice and she is fully successful in it. A big applause for her.
Everyone else including the real life "dabbawalas" of Mumbai did their job perfectly.
If all goes well, this can be India's official entry for Oscar. Laced with light situation spurred with humor having a great screenplay n direction, this movie could be a 4 star movie, but due to some flat scenes, unwanted track of heroine's mother and somewhat unenthusiastic climax, I am going with 3.5 stars for this lunchbox.

Recommendations: A must watch movie for everyone. Too small kids may not enjoy it due to real life pace of the proceedings. However kids above 6+ years to elderly in the house, everyone will enjoy the movie. Such movies can only get big release only if audience support them. So please support it wholeheartedly and watch with your family and friends. It is a light entertainment with good quality cinema. You will come out with a smile. Go watch it!