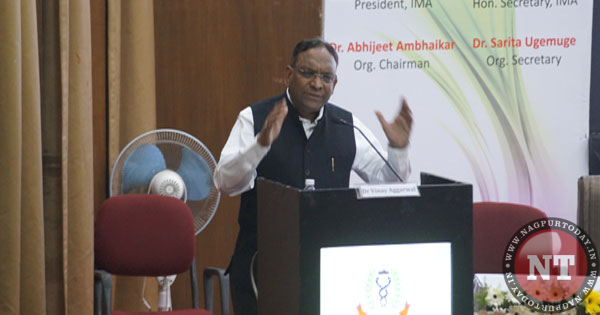 The Indian healthcare has come a long way since the era of 1947, when there was extreme dearth of advanced training and medical facilities to the current time when our country is being visited by approximately 9 lakh foriegn patient annually.
Earlier the challenge for doctors was to cure a disease. Now major concerntration is paid upon prevention. Back then, people had died due to hunger and Malnutrition. Now it is diabetes and obesity. Then we had no concept of healthcare to follow, but today we have universal healthcare system. However the quality healthcare, patient security and violence against profession are still some prime area of concern.
These issues were put into spotlight by Dr Vinay Aggarwal, past national president of IMA, Chairman and Managing Director of Pushpanjali Crosslay Hospital. He was speaking on 'Medico- social scenerio of India 1947-2017. have our efforts brought enough success?', a lecture in the memory Dr Taori at the annual conference-NIMACON of Indian Medical Association (IMA) on Saturday.
Dr Aggarwal recalled the period of 1970 when around 4000 patients had daily suffered their life in dengue epidemic.
"According to me, the primary healthcare structure planned in 1950s is the most effectively planned but a highly neglected model. The Primary/Secondary Healthcare responsibility should lie with the Centre/State Govt while the Tertiary and Superspeciality treatment should be managed in collaboration with the Private Sector (Public?—?Private mix)", said Dr Aggarwal.
However we have made advancement but not upto the expectation. "Government has launched several schemes in the past even till date, but has failed in implementing it. The National Rural Health Mission (NRHM) was launched in 2000, but failed drastically. It was pure corruption. No scheme is succesfull unless there's no involvment of citizen."
Looking at the pulse polio programme or small pox eradication plan, we have learnt that they became succesfull due to the participation of people in huge number into it.
"Currently launched Ayushman Bharat Yojana needs proper budget, involvement of people and implementation to get results. Otherwise it will also face the same thing as other government-run schemes ", he added.
Healthcare statistics
The number of primary healthcare centres in 1947 was 50,000 which is now 7.7lakh. Number of Medical colleges were just 28 the, and now its 460. Today we have as many as 17.9lakh nurses which was 16,550 then. Hospital beds per 10000 population is now 9.3 which was earlier 3.2. Also, today the healthcare expenditure is 4.7% of the GDP.
Future agenda
A central act against violence on doctors and amendment in PCPNDT act is highly needed. Money has been extorted from doctors in the name of this act. Also, improvement in working condition of resident doctors will be our objective as well as opposition of NMC bill as it has many flaws aasociated.