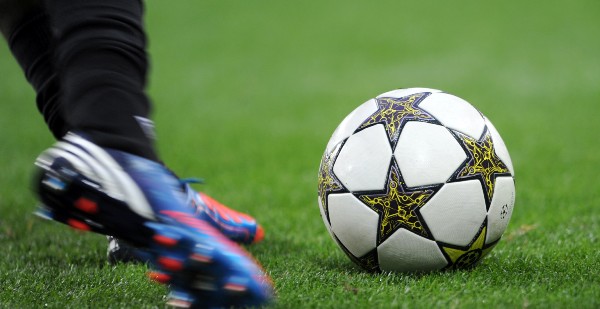 Football is a family of team sports that involve, to varying degrees, kicking a ball with a foot to score a goal. Unqualified, the word football is understood to refer to whichever form of football is the most popular in the regional context in which the word appears. Sports commonly called football in certain places include Association football (known as soccer in some countries); gridiron football (specifically American football or Canadian football); Australian rules football; rugby football (either rugby league or rugby union); and Gaelic football. These different variations of football are known as Football Codes.
There are two main classes of football: 'carrying' codes like American football, Canadian football, rugby union and rugby league, where the ball is moved about the field while being held in the hands or thrown, and 'kicking' codes such as Association football and Gaelic football, where the ball is moved primarily with the feet, and where handling is strictly limited. The matches are between two teams of usually between 11 and 18 players, some variations with fewer players (five or more per team) are also popular.
A Chinese game called Cuju, Tsu' Chu, or Zuqiu has been recognised by FIFA as the first version of the game with regular rules. It existed during the Han Dynasty, in the second century BC. The Japanese version of cuju is 'kemari', and was developed during the Asuka period. This is known to have been played within the Japanese imperial court in Kyoto from about 600 AD.
The Ancient Greeks and Romans are known to have played many ball games, some of which involved the use of the feet. The Roman game 'harpastum' is believed to have been adapted from a Greek team game known as 'Episkyros' or 'Phaininda'. These games appear to have resembled rugby football. Roman ball games already knew the air-filled ball, the 'follis.'
There are a number of references to traditional, ancient, or prehistoric ball games, played by indigenous peoples in many different parts of the world. For example, in 1586, men from a ship commanded by an English explorer named John Davis, went ashore to play a form of football with Inuit (Eskimo) people in Greenland. On the Australian continent several tribes of indigenous people played kicking and catching games with stuffed balls. The earliest historical account is from the 1878 book by Robert Brough-Smyth, The Aborigines of Victoria.
The main sources of modern football codes appear to lie in England. The early forms of football played in England, sometimes referred to as "mob football", would be played between neighbouring towns and villages, involving an unlimited number of players on opposing teams who would clash en masse, struggling to move an item, such as inflated animal's bladder to particular geographical points, such as their opponents' church, with play taking place in the open space between neighbouring parishes.
The first detailed description of what was almost certainly football in England was given by William Fitz Stephen in about 1174–1183. He described the activities of London youths during the annual festival of Shrove Tuesday. After lunch all the youth of the city go out into the fields to take part in a ball game. Older citizens, fathers, and wealthy citizens come on horseback to watch their juniors competing, and to relive their own youth vicariously.
Most of the very early references to the game speak simply of "ball play" or "playing at ball". This reinforces the idea that the games played at the time did not necessarily involve a ball being kicked.
An early reference to a ball game that was probably football comes from 1280 at Ulgham, Northumberland, England. Football was played in Ireland in 1308, with a documented reference to John McCrocan, a spectator at a "football game" at Newcastle, County Down. A game known as "football" was played in Scotland as early as the 15th century: it was prohibited by the Football Act 1424 and was not repealed until 1906.
There have been many attempts to ban football, from the middle ages through to the modern day. The first such law was passed in England in 1314; it was followed by more than 30 in England alone between 1314 and 1667.
While football continued to be played in various forms throughout Britain, its public schools are widely credited with four key achievements in the creation of modern football codes. First of all, the evidence suggests that they were important in taking football away from its "mob" form and turning it into an organised team sport. Second, many early descriptions of football and references to it were recorded by people who had studied at these schools.
Third, it was teachers, students and former students from these schools who first codified football games, to enable matches to be played between schools. Finally, it was at English public schools that the division between "kicking" and "running" (or "carrying") games first became clear.
English public schools also devised the first 'offside' rules, during the late 18th century. In the earliest manifestations of these rules, players were "off their side" if they simply stood between the ball and the goal which was their objective. However, offside laws began to diverge and develop differently at each school. The first known codes – in the sense of a set of rules – were those of Eton in 1815 and Aldenham in 1825.