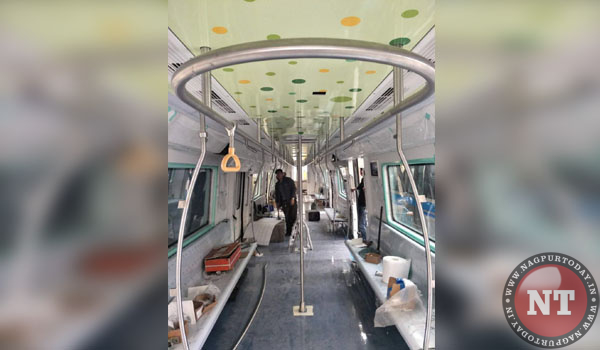 Nagpur: The mock up of Rolling Stock or metro rail coaches in layman's terms, being specially manufactured for Maha Metro Nagpur have reached advance stage. This is being manufactured at China Railway Rolling Stock Corporation Limited (CRRC) facility at Dalian, China.
Though being manufactured in China, it has had its share from other countries too. Japan – for example – accounts for 40 per cent of its components. Siemens – the globally renowned company from Germany and India too have its share in its make up. Thus, in all, 4 nation's have provided input in its manufacture. Such coaches can also be manufactured in India.
As Maha Metro MD Dr Brijesh Dixit has put it – "Watch the first look of Metro coach straight from China." Indeed, the Rolling Stock has some very interesting features which would enhance passenger journey, as envisioned by Dr Dixit. It has 4 passenger saloon doors and 2 cab doors per side. A wider gangway has been provided for smooth communication between coaches.
This apart it has some other special features too. It provides for larger window for an enhanced view. As per Maha Metro policy of taking special care of the needy segment of the society, some very essential features have been Incorporated in the coaches.
The Rolling Stock has priority seating arrangement for pregnant women, disabled and elderly passengers. Dedicated space for 2 wheel chairs has also been ensured.
While the interior design matches the best across Metro world, the seats have been ergonomically designed and are made of stainless steel. The coaches provide for draught screen, grab poles, grab handles and grab rails for standing passengers.
Two LED light belts run along the saloon in the roof for energy efficient illumination. The rolling stock manufacturers at CRRC have also made provision for alighting from train in case of emergency. Door is provided on the right side of the cab for evacuation of passengers in case of any emergency.
Passenger Information Display System (PIDS), LCD-based Digital Route Maps (DRM), Passenger Saloon Surveillance System (PSSS), Automatic Voice Announcement System (AVAS), modern interior panels are other essential features which have been added.
As part of safety measures two fire extinguisher s under the seat and passenger alarm device allowing two-way speech channel to be established with train operator has also been provided. The first view of the best proposed coaches is indeed a sight to behold with.