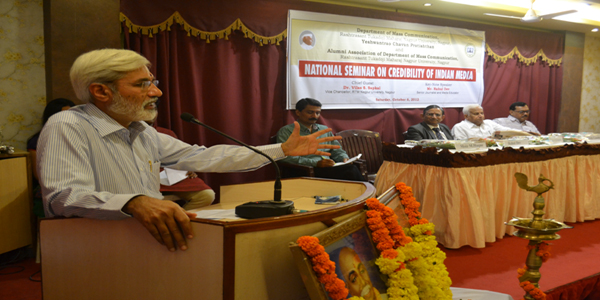 Nagpur News: Senior journalists of the country like  Rahul Dev,  Prakash Dubey and Prasun Bajpai spoke to young students and professionals in the city about the credibility of the Indian media at Dadsaheb Dhanwate Sabhagruha today. The seminar, which will go on all day today, has been organised by the Journalism Department of RTMNU, on the occasion of the University's Alumni Meet inauguration.
Journalists with years of experience in leading newspapers and news channels of the country like Dainik Bhaskar, Doordarshan and Zee News, gave their views about the credibility of the media in India today, in the light of recent events that has rocked the News industry in India such as the Radia Tapes scandal and the Paid News scam, among other things.
Rahul Dev, referring to the coal scam and the allegations against Mr. Vijay Darda, said, "The biggest doubt in the credibility of Indian media has its base in Nagpur city". He didn't elaborate, saying that the issue will probably be dwelt in detail later today. However, he also stressed his belief that at least 80% of the media in India is not corrupt. He also emphasized that the commercial side to News cannot be ignored; every newspaper needs funds, whether personal or otherwise, and the media cannot function without advertising revenue.
Prakash Dubey spoke about the growth and power of the Indian- language press, saying that 80% of the country's news publications are in Hindi or regional languages. He spoke about the advantages of technology in news today, and said that it is the onus of the users of that technology to use it for good purpose, not bad. He also spoke about corporatisation of the Indian media, and asked whether News Editors, as safekeepers of Indian democracy, should make it a habit to declare their own assets before asking politicians to do so.
Senior High Court Advocate Prabhakar Marpakwar was also a member of the panel, having represented leading newspapers in court and given many working journalists their due. He expressed his faith in the credibility of the Indian media, and criticised the "contempt of court" clause as an exemption to Freedom of Speech guaranteed under Article 19 (1) (A), the safekeep for journalistic in the country.
Girish Gandhi appreciated the presence of students at the seminar. He said that he considers the Paid News scandal an ever bigger blot on media credibility than the Radia tapes, since print journalists across the board in general have now been cast in doubt. All the speakers called for introspection among members of the press and media in India.