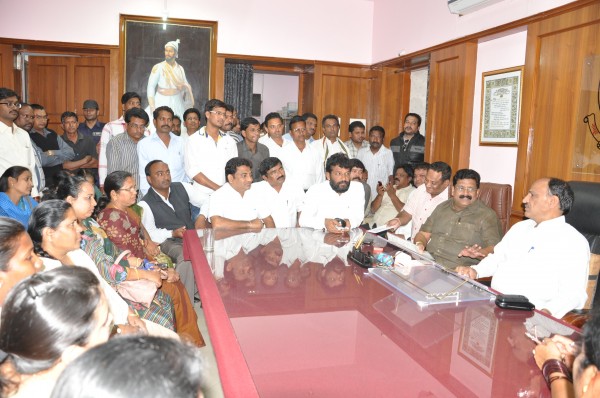 Nagpur News: The firebrand Opposition Leader in NMC Vikas Thakre today put Mayor Anil Sole on notice and told him in hardest ever words that a major agitation would be launched if the Opposition's demands on crucial issues are neglected and sidelined by various uncanny way and means.
A delegation led by Vikas Thakre met the Mayor and submitted a memorandum to him on the burning issues of NMC's agreement Star Bus, roads riddled with life-threatening potholes left as it is by Orange City Water (OCW) during road works, scam pertaining to wood supplied to NMC-run crematoriums, stealing and evasion of Octroi Duty (LBT) and other issues. The delegation then held a "Dharna" protest against Star Bus.
Those present in the delegation include Congress Corporators Prashant Dhawad, Yogesh (Guddu) Tiwari, Arun Davre, Dr Prashant Chopra, Deva Usre, Deepak Kapse, Sanjay Mahakalkar, Aman Ullah Khan, Vasudeo Dhoke, Prasanna Borkar, Shilpa Tarale, Bhavna Lonare, Sheela Mohod, Abha Pande, Harshla Sable, Saraswati Salame, Yashasvi Nandanwar, Sindhu Uike, Vidya Lonare, Kumuduni Kaikade, Ravinder Kaur, Pushpa Nimje, Asrafu Iftikhar, Nayna Zade, Nimisha Shirke, Adv Rekhatai Barahate, Rajashree Pannase, Ujwala Bankar, Prerna Kapse, Padma Uike, and others.