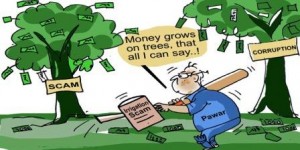 Nagpur News: The Vidarbha Irrigation Development Corporation (VIDC) had been constituted by the State Government to improve irrigation and agriculture in the region. The body, however, is far from reaching its goals.
While Deputy Chief Minister Ajit Pawar has already resigned due to the uproar caused by the irrigation scam in an effort to save his credibility, the fact still remains that a lot of the irregularities occurred during his term in office.
R. L. Damani, Executive Director of the project at the time, had illegally cancelled a tender worth Rs. 1 crore 84 lakh for the project in 2003, three days before the opening of tenders. According to sources, Damani and other members of the association wanted to award the tender to a contractor named Babulal Sharma, for vested reasons. Only one tender had been received by the last date for submission tenders, from Aurangabad- based Sai Dutt Construction Company. This application ruined Damani's carefully laid plans and he felt the project slipping out of his hands, especially with Babulal Sharma's promise of giving a tender having come to naught.
Damani, together with a middleman named Pawan Chokhani and the then Superintendent Engineer N.V Katare  met with a representative of Sai Dutt Construction Company and tried to hush the matter up. They also tried to tempt him with another tender worth Rs. 65 lakh, in exchange for this one. He refused.
In the next attempt to get Sai Dutt Construction Company off the project, a complaint was filed against the representative of the company, alleging that he had coerced and threatened competing companies to keep them from filing their tenders. However, the head clerk of the irrigation denied any such occurrence, having personally spoken to prospective bidders about their tender.
Bunty Chaudhary , head of the West Nagpur wing of the Shiv Sena, claims to have complained to former Irrigation Minister Ajit Pawar, as well as to the chief engineer of the project at the time, about the ongoing corruption in the Irrigation Board. According to Choudhury, even the bills of contractors in the Gosikhurd Project have not been submitted. Choudhury had even threatened an MLA in this regard, creating a sensation in the irrigation department on 4th September, 2003.
Today, corruption has become a major issue in the State irrigation department. Chief Minister Prithviraj Chavan has ordered a probe against concerned ministers. This is a slap in the face for people like Bunty Chaudhary, who had raised the alarm while the rules were being flouted, but were ignored. This issue is almost a decade old, yet it is somehow connected to the corruption rampant in the country today.
– Special Correspondence Nagpur Today