Telangana CM KCR has narrow escape after minor fire on his helicopter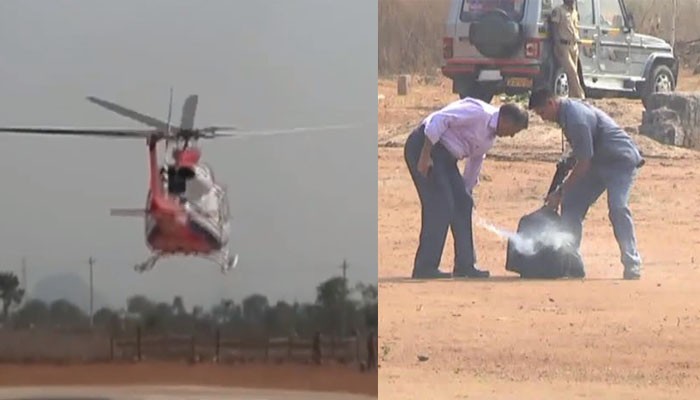 Hyderabad: It was a narrow escape for Telangana Chief Minister (CM) K Chandrashekar Rao today as a bag that was part of the CM's office luggage caught fire right before the take off of his chopper.
The security officials dumped the bag near the helipad and averted the security scare immediately.
The DGP of Telangana confirmed that there was no snag in the chopper that carried the CM.
"The VHS set used by the police caught in short circuit was found and removed immediately. The CM and others traveling in the helicopter are safe," the DGP said.
A video shows the security guards of the Telangana CM running with the bag to avert a deadly situation.
The chopper safely took off then with the CM on board.
KT Rama Rao, minister in government of Telangana and son of KCR, confirmed that the chief minister was safe.
Security officials are now probing the incident that occured in a helipad at Karimnagar where Rao visited to attend an official function.
KCR carries a security structure equivalent to the Z+ status. The chief minister of Telangana was protected by the Intelligence Security Wing (ISW) personnels who are trained as per the Special Police Group (SPG) and are clad in Safari dress.
The CM is further guarded by 18 well-trained commandos of the elite anti-Maoist Greyhounds.