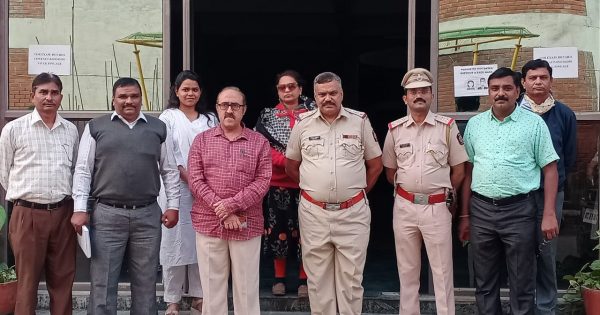 Mehmuda Shikshan & Mahila Gramin Vikas Bahuddeshiya Sanstha's Central India Group of Institutions felicitated Tahsil Senior Police Inspector Rajesh Bhandarkar and his team for becoming No.1 Police Station in Maharashtra State.
Senior PI Rajesh Bhandarkar, his entire team were felicitated by Dr. Anees Ahmed, Ex. Cabinet Minister.
While addressing the gathering Dr. Anees Ahmed was all praise for team of Tehsil Police and said the efforts of the same team would motivate the entire police force to bring laurels. Ahmed said it is because of such honest and courageous officers, image of Police Force has changed for the better amongst the common man.
Ahmed also motivated the students of Central India Group of Institutions to follow their dreams with tonnes of hard work and not only rely on luck.
Rajesh Bhandarkar, Police Inspector, while Thanking Central India Group for the felicitation said such initiatives helps to boost the morale of the police force.
Present in the felicitation program on behalf of Tehsil Police were Shailesh Gaikwad (Asst. PI) , Pramod Dhote ( Police Head Constable ), Arun kolhe, Ravindra Patil and Atul Charde After the felicitation program the entire Tehsil police team along with staff and students of Central India Group carried out tree plantation program in the campus.
Senior PI lauded the management of the group for having initiated medicinal plantation and said such initiatives would help the pharmaceutical students to have a practical approach.
In this program all the Principals Dr. Jameel Abbas, Mr. Madan Kadwe, Ms. Swati Bodankar, Mr. Sagar Thakre, Mr. Sayyed Majid faculty and students of B.PHARM, D.PHARM and DDUGKY were prominently present. The program was conducted by Ms. Iftesham Ansari and vote of thanks was proposed by Rahela Siddique.