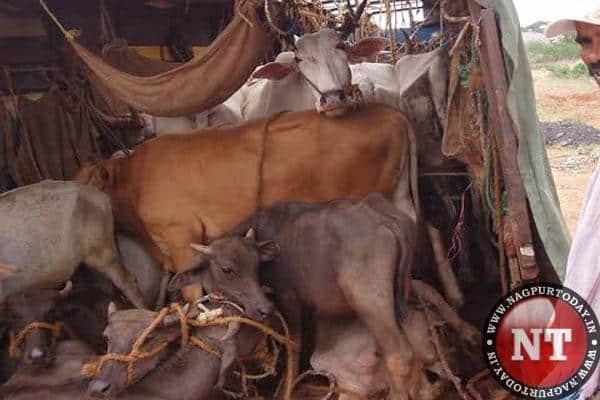 Nagpur: Acting on a tip-off, a team of Tehsil Police Station raided a house in Ansar Nagar, Mominpura, and rescued five cattle including four calves on Tuesday, March. One person has been arrested in this connection. The cattle were meant to be slaughtered.
The arrested accused has been identified as Ayub Aslam Qureshi (30), resident of Dobi Basti, Ansar Nagar, Mominpura. The rescued cattle is worth Rs 60,000.
During the patrolling, a team of Tehsil police received information that four calves and a cow have been kept in a room in the house of accused Ayub Aslam Qureshi in Ansar Nagar, Mominpura. Subsequently, the police team raided the house and found the cattle. When confronted, the accused told the police that the cattle were purchased from Kalamna market. The cattle were to be taken to the slaughter house.
Following this, the cops rescued the cattle and booked the accused Ayub Aslam Qureshi under Sections 5, 5(A), 5(B), 9 of Maharashtra Animal Protection Act.
The action was carried out by Senior PI Aniruddh Puri, PI (Crime) Vinayak Golhe, API Sandeep Bagul, PSI Pravin Surkar, Head Constable Sanjay Sahu, NPC Sandeep Gawli, and Sepoy Kunal Korche under the guidance of Commissioner of Police Amitesh Kumar, Additional CP (North Division) Neeva Jain, DCP (Zone-3) Gorakh Bhamre and ACP (Kotwali Division) Sanjay Surve.