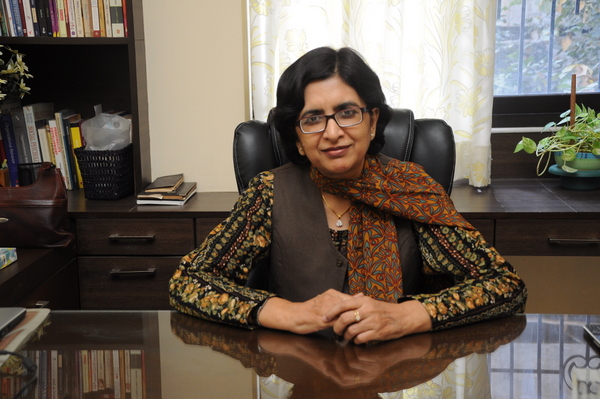 Nagpur Today had a chat with reputed consulting psychologist Rita Aggarwal, about the rising deaths of teenagers in recent times. Though she counsels people from all age groups and demographics, she is known majorly for her work with students and in marriage counselling, with her research and dissertation on "Psycho- social Correlates of Domestic Violence" having gained prominence years ago, in 1987. She is also known for her column in a leading city newspaper.
Following are excerpts from the interaction.
Meghna: As a psychologist, have you ever noticed a taboo among the people of Nagpur, against taking psychological help?
Rita Aggarwal: Yes, I would say that it's quite rampant, though I have seen a decline in my twenty five years of practice. There is a growing acceptability- and, in fact, very strong promotion as well- of counselling services. People are realising that it's needed, and that there's no harm in going to a friendly counsellor. People are also aware enough to differentiate between psychiatry- which deals with abnormal problems, and psychology- which deals with both normal and abnormal problems.
Meghna: When you realise that a patient of yours has a definite psychiatric problem, how do you break the news to them, and how do they generally react?
Rita Aggarwal: A very important part of the counselling process is how to break the news and how to take care of the emotional disturbances that will incur. We tell them how to get help, and try not to focus on the bleak side of it. Giving hope to the patient is very important. The diagnosis is told to them, of course, and if it's a psychiatric problem, they are referred to a psychiatrist.
Meghna: What are the techniques that you use to help your clients?
Rita Aggarwal: The techniques are many. There are different schools of psychology, and as a psychologist, you can be trained in a lot of them and specialised in few. For example, there is Psychoanalysis, Cognitive Behaviour Therapy, Rational Emotive Therapy, Behaviour Modification and Gestalt Therapy. There are so many ways, and I, at least, choose the method which would suit the client's personality. It becomes case- specific.
Meghna: Do you see many cases of stress in students?
Rita Aggarwal: Yes, a lot of it. Stress occurs due to multiple reasons, such as career confusion wherein parents make their children pursue engineering when they wanted to do Art and Design, or isolation in a child who is shy and submissive and gets teased by his peers. We have a large population coming into Nagpur from the suburbs and peripheral cities that have a variety of adjustment problems that can lead to stress. Stress is nothing but a distressed state of mind, where your functioning capacity and efficiency drops.
Meghna: Do you have a comment on the rising rate of teen suicides in recent times?
Rita Aggarwal: Yes, that is a major cause of worry for us professionals. I think parents, teachers and guardians need to watch for the signs. The signs can be sudden change in behaviour, withdrawing from society and the family, staying alone. It should not be taken lightly; that's where we lose our life.
Meghna: What, do you think is the cause of this sudden spurt? Does it have to with a rise in pressure levels, or in the sensitivity of the teen?
Rita Aggarwal: Neither, it is a growing sense of isolation, alienation and helplessness, for which again there could be multiple causes. Society today is changing very rapidly compared to earlier times, due to very fast- moving technological changes. This is affecting our lives in many ways, and people are unable to cope with it. Technology per se is not bad, but its impact on one's personal life is tremendous. There is an explosion of knowledge, and an explosion of multi- cultural effects. "This has happened in America; Europe thinks like this, India thinks like this"- creates a lot of conflict. I find people utterly confused, and there is a severe erosion of ethics, for which I would not blame the children because it rampant everywhere and you can see it in our political system. What kind of age are we living in and what are we giving our children? I would blame the adults more than the children. As guardians, we need to be more careful with our own behaviour. Our generation has been a bad role model.
Technology gives you knowledge at such scope that you don't know how to deal with it, take Wikileaks for example. There is definitely a lack of guidance as to how one deal with it. This lack of guidance is also because there is confusion among the older generation. Many of us don't know how to use computers and new technology, and when a young geek comes up to us saying, "Oh ma'am, you don't know this, let me teach you", we don't have the inclination or the time for it. So, we don't know what our youngsters are up to, and there is a gap of proper understanding as to what is going on.
Meghna: Do you see a rise in cell- phone addiction and internet addiction among the youngsters, and is it a big problem?
Rita Aggarwal: Yes, it is a very big problem. We have to wean them away. See, the term "addiction" itself has a negative connotation. Internet is not bad; phones are not bad. Addiction, be it to smoking or pool or phones, is bad. When you allow it to rule your life, it is a problem.
Meghna: On a closing note, can you give our readers a basic tip to avoid depression and stress?
Rita Aggarwal: I would advise them to try and think as simply as possible. No matter which generation you belong to, the basic truths of life remain the same. Think with a broad vision, look around and see what is going on, but try to simplify your own life as much as possible. Secondly, if we go by our own cultural and religious legacy, positivism and optimism should be the philosophy of life.