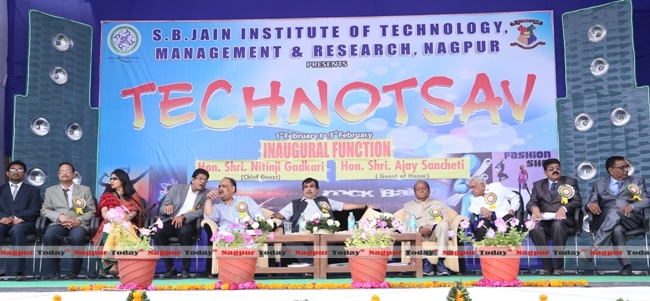 Nagpur News.
A Three-day Mega Youth Festival- TECHNOTSAV – 2014 has been organised for the 4th consecutive year by the S. B Jain Institute of Technology, Management & Research, Nagpur that has commenced from 1st February 2014 for the students of Engineering Colleges and Polytechnic Institutions.
The festival was officially inaugurated by Shantilal Badjate, Chairman of the Trust by unveiling the mascot 'Ashwateq'.
Nitin Gadkari, Former-President BJP as the Chief Guest and Ajay Sancheti, Member of Parliament, Rajya sabha as the Guest of honour graced the event with their presence at the inaugural function held at the sprawling green campus of the institute.
Keeping in trend with the Management's ideology of lauding the efforts of achievers, university toppers were awarded a scholarship of Rs. 50,000/- each. Besides, fourteen class toppers were awarded a scholarship each .Under the Late Jaswantiben Anantrai Parekh Need-Based scholarship, selected students are awarded scholarships of Rs. 20000 to 10,000 each. The total amount distributed under this scheme each year is Rs. 5 lakhs.
Nitin Gadkari in a very inspiring speech motivated the students to adopt innovative, entrepreneurial methods to generate employment and thus offer a sustainable and happy lifestyle to the underprivileged and rural sector in the society. He emphasized on innovation and use of science & technology for rural development. He urged the youth that in the process of creation of a dynamic personality and imbibing of leadership qualities, one should not lose track of the deeply imbibed Indian ethics and values that our rich culture has taught us.
Ajay Sancheti insisted on being alert and aware of latest technology to keep pace with rapidly changing world.
Anuj Badjate applauded the efforts of the students and his team and remarked that the number of toppers the college has been churning out is increasing each year. He further added that he would be happier still, and is committed to the goal of churning students, who would not just be absorbed by the Wipros and Infosys of the world, but would create Wipros and Infosys of their own.
Prominently present on the occasion were the patrons, Shantilalji Badjate, Chairman of the trust; Anuj Badjate, secretary; Preeti Badjate, Trustee, Anantrai Parekh , CEO Prof. Sanjeev Agrawal, Principal Dr. Narendra Bawane, Vice-Principal and Convener Dr. S. L. Badjate and Sajal Roy Choudhary, President SRC.
The vote of thanks was delivered by Dr. SL Badjate. The proceedings were smoothly compered by  Mithilesh Pathak and  Aboli Nagpure.