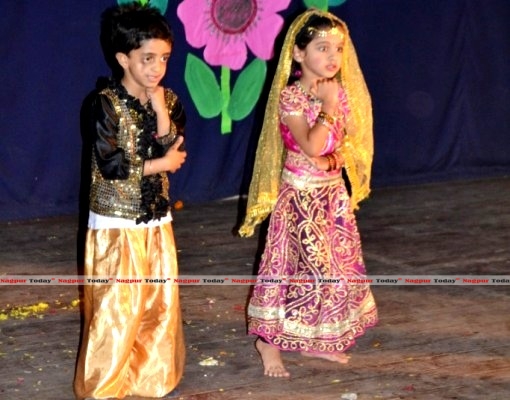 Nagpur Today:
The Annual Concert which was conceived on the theme "Flavours of life" like Happiness, Joy, Sorrow, Celebrations, mixed emotions, sweet and Sour moments of Life etc. as the President and Director of Green Heaven Kids Kavita Sharma explained the theme of the concert. The concert was held on February 1, 2014.
The Chief Guest of the Concert was Associate Professor of Post Graduate Department (Education) in University Campus Dr Rajashree Vaishnav. The other guests and dignitaries include the members of the management President  & Director Kavita Sharma, Vice-President Umesh Sharma, Secretary Anil Sharma and Principal of the school Aboli Bidkar.
It was a joy to see the joy on the faces of parents of these little tiny tots when they performed on the theme. The hard work put in by the teachers in training these tiny tots showed in the marvelous show they put up.
The programme started by lighting of the lamp by the Chief Guest and the dignitaries. The Chief Guest was felicitated and given a sapling. A melodious welcome song was put-up b the kids, with each letter of welcome appearing one after the other. This was followed by Saraswati Vandana. The girls danced to the tune of Saraswati Vandana with synchronized dance steps. The Principal of the school Aboli Bidkar addressed the gathering and gave a brief description of their school since its inception and the marvelous work they have achieved in these years. A drama was enacted by the kids with each kids doing justice to the role given to them. This was followed by a dance with kids attired with costumes of Trees, Plants, Animals and Birds.
Another play which depicted a marriage was played by the tiny tots who had the audience in splits. Laughter boomed in the auditorium. The Dahi Handi dance-drama too brought cheers to the kids.
Overall the concert was worth watching, with kids rehearsing and learning their lines to perfection and the teachers who worked hard to make this programme a grand success.
The Green Heaven Kids which has classes from Pre-Nursery to KG-II. The Management of the School is also running Management courses at MBA and B-Ed College situated behind Sahara City. The Director and President of the Society Kavita Sharma said that their College was recently awarded with Best Upcoming Management College of Vidarbha.
PICS BY : Amol