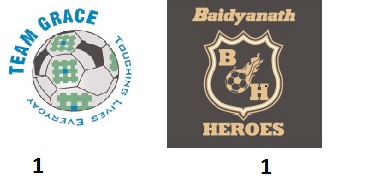 Team Grace held last year's runners-up Baidyanath Heroes to 1-1 draw in Lokmat's Nagpur Premier League (NPL) Football Tournament at Yashwant Stadium, here on Thursday.After losing the  first match against Meghe United and playing draw with Team Grace, Baidyanath Heroes have just one point to their credit. Team Grace should blame themselves for missing several golden opportunities in the  last phase of the game. Had they capitalized on them, the result would have been different.
In the first half both the teams had equal ball possession. Actually Team Grace were unlucky for missing opportunities twice. In the very fourth minute , Ayaz Ahmad's shot from the pass off Aquib Faraz sailed above the cross bar. In the 18th minute, Baidyanath Heroes took the lead when Naveed Akhter scored an excellent goal on Arvind George's pass. In the very next moment Arvind made one more attempt but this time Grace goalie Faizan Akhter managed to block it.
Grace professional player Chibuzof just missed the target off Ayaz Ahmad assist . However during  extra time of first half, Mohammad Sujjad restored parity .
In the second half both the teams tried to break the deadlock but in vain. The combination of Moin Kamal and Naveed Akhter made some good moves for Baidyanath but failed to capitalize on them.
Baidyanath would have faced couple of goals had their goalkeeper Rameez Raja not saved the attempts. First in the 63rd minute he dived and saved an attempt of Ayaz Ahmad. Once again Ayaz was unlucky to miss an  open net. Once again Rameez Raja stood like a wall between him and denied an opportunity to take the lead.
In last three minutes,  Team Grace intensified their attacks but they were unlucky for missing several opportunities. First Nigerian striker David who came in place of Chibuzof   missed an open net and then Aquib Faraz missed golden chance as his header just missed the target  due to the brilliance of Baidyanath defender.  
Team Grace goalkeeper Faizan Akhter and Baidyanath defender Praneet Mendon were adjudged as best players.
Earlier DGM (business and operations) SBI Nagpur Zone B Shankar, branch manager of Sony India Pvt. Ltd Kamal Sanghvi, senior territory manager of Sony Ketan Patil, Shekhar Jadhao, former Vidarbha Ranji captain and SBI PRO Hemant Wasu inaugurated the match by lighting traditional lamp.