Nagpur News: The artists from Vidarbha were felicitated for their valuable contributions in various fields of arts at a programme held Hindi Mor Bhavan. The felicitation programme was organized by Vidarbha Kranti Sanghatan and Kalasagar Sanstha by offering the artists Shawls and Mementoes.  Vidarbha Kranti Sanghatan said, "There is no shortage of talented artists in Vidarbha. However, there are no facilities like rehearsal halls to hone their skills. Therefore the Sanghatan demands Maharashtra Government to take measures in this direction."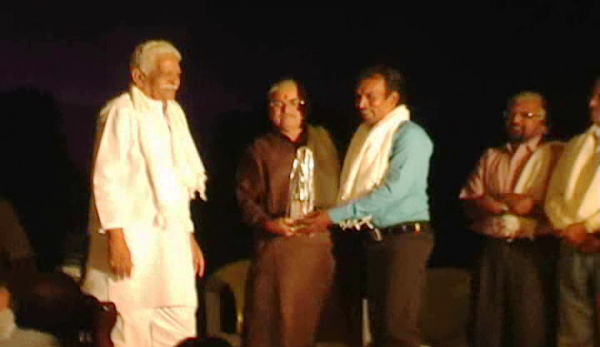 The Kalasagar Sanstha has been felicitating journalists every year and this year, the Sanstha honoured INBCN and IBN-Lokmat Channel scribe Sunny Bhongade by presenting him a Memento. All the artists and the journalist were felicitated by MLA Dinanath Padole and Senior Journalist Umesh Chaube.
Sunny Bhongade is an excellent journalist and is an inspiration to young scribes. While talking to Nagpur Today report Ravikant Kamble, Sunny narrated some outstanding moments of his life and the 8-year old career as a journalist. The spot journalist, Sunny Bhongade has also contributed his might in social work too. Sunny's efforts provided justice to the many poorer section of the society and played the crucial role in suspension of 7 policemen by exposing their illegal and irresponsible actions.