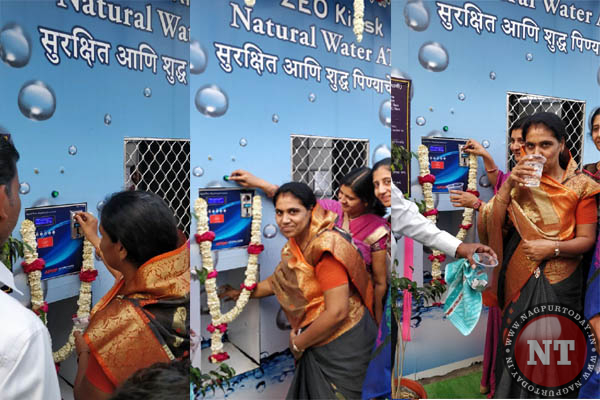 Nagpur: At a time while bottled water of various brands are being sold in the range of Rs 20-80, a renowned company from Sweden – Josab International — has promised to provide clean and purified drinking water to Katol residents that too for Rs 2 only.
Keeping its word, Katol got its first five water ATMs on Sunday, March 4, 2018. The high-quality ATMs, supplied by Josab India, will provide clean and mineral rich water to the public, catering to those who have not previously been able to access naturally retained mineral water. These five ATMs were inaugurated by Charan Singh, Leader of the Alliance Party at the Tar Market in Katol.
The dignitaries present on the occasion include Nils Eliasson, Consulate General, Mumbai, Vaishali Thakur, President of Katol Municipal Council, AshokGarate, Chief Executive Officer, Katol, JitendraTupkar, Vice President, Katol Municipal Council, Raju Charde, Chairman of Planning Committee, Subhash Kothe, Chairman, Construction Committee, Devidas Kathane, Chairman, Education Committee, Shalinitai Bansod, Chairman, Women & Child Welfare Committee, Bharat Patel and Pushpadant Dhopade, President and Secretary of Katol Traders Association, Dennis Thazamom, representative of Josab International in India and others.
At the five water ATMs in Katol, water can be bought in different quantity at various rates such as for Re 1 (glass), Rs 2 (a litre), Rs 5 (10 litres) and Rs 10 (20 litres). The water is 99% clean, devoid of any sludge formation, and adds no chemicals in the process. The purchasers of water at these ATMs can use coins of designated denominations as well as Bank ATM cards and PayTM rather easily. The ATMs are being operated with very less utilisation of electricity.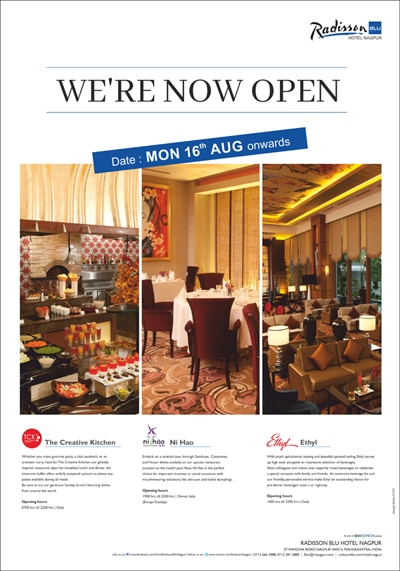 Katol Municipal Council understands the need of the hour to supply healthy water to the public. Even the Government of India, Ministry of Rural Development, Department of Drinking Water and Sanitation have asked State Governments to refrain from using RO treatment. Furthermore, Josab's technology is ecological, uses natural materials, leaves minimal footprint, has low energy consumption, and requires minimal annual maintenance.
Social Empowerment
The Katol Municipal Council is also planning to approach women self-help groups to promote this project, with the aimof empowering women and increasing social awareness.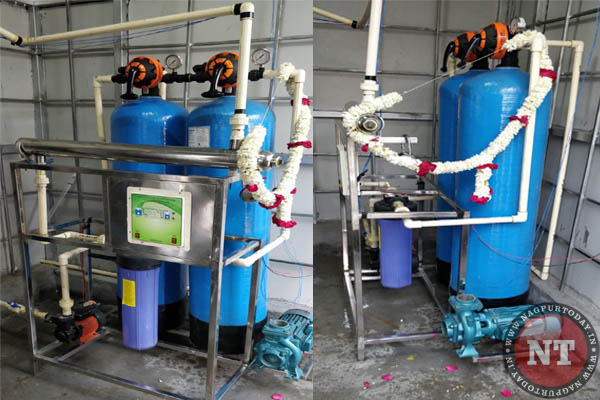 Nagpur Municipal Corporation:
Nagpur Municipal Corporation and the public are very curious about the functioning of Josab Kiosks, and have shown interest of setting up units in the city after discussions with the MD of Josab India Pvt Ltd Dennis Thazhamon. "We have come to understand that Nagpur decision makers use RO treatment where there is a heavy problem of fluoride and salinity. However, there are other sites where there is potential for Josab's ATMS / Kiosks and water treatment technology to be installed.'Josab uses Zeolite (a mineral) based technology. The advantage is zero waste of water, low maintenance cost, no usage of chemicals and above all – zeolite is natural mineral "
Inspired by the ATM venture by the Sweden's company, Jasab International in Katol, the Chairman of NMC's Transport Committee Jitendra (Bunty) Kukde has taken initiative to install Water ATM in East Nagpur.
About Josab India:
Josab India has completed work for the Government of Kerala, providing water treatment plants for larger water supply schemes and community based water treatment in conjunction with the World Bank. Josab has similarly installed over 100 Water ATMs for the Telangana Government in Hyderabad. Josab's technology is internationally recommended by organisations such as UNICEF, Red Cross, UNCHR, World Bank, etc.
Josab's innovative solution to water treatment can produce drinking water similar that of Evian and Himalaya quality, with no added chemicals or additives. Where previously mineral drinking water was only affordable to few, it is now accessible for all at low prices at the Water ATMs.

Natural and Ecological Process – Not RO:
Josab does not treat water through Reverse Osmosis 'RO'. The World Health Organization published an internal working document (WHO 1980), concluding that "not only does completely emineralised water (distillate) have unsatisfactory organoleptic properties, but it also has a definite adverse influence on the animal and human organism."
The potential adverse health effects from long-term consumption of demineralised (RO treated) water is of interest not only in countries lacking adequate fresh water, but also in countries where some types of home water treatment systems are widely used or where some types of bottled water are consumed. Even after remineralising, this water has an adverse effect on health.