Swardhara Gp Nagpur has arranges "Diwali Dhamaka special …" a online musical concert. In the lock down period , Swardhara Gp has given a musical feast to all viewers. Viewers shower their comments on the Singers and organizers. Huge no comments and compliments was there to the show. . It is unique program by Swardhara Gp for journey of sweet Songs. Dr. Sanjay Uttarwar who is known as Voice of Mukesh in Nagpur , was Chief Guest for event. Tushar Rangari, Pravin Bhivgade, Jafar Shikh, Raj Gwalani, Anthony Sir, Ashok Burde, Shyam Dhomne, Shial Sakhre, Mr. Benjamin, Anil Bagde, Suresh Katahle, Seema Singh, Shrd Lanjewar, Mousmi Bisen, Aruna Choudhary Tushar Rangari is a versatile singer who perform songs of various singers with perfection. Show was attended by majority of viewers from Maharashtra and Goa and around the globe . Concept and organizer was of Tushar Rangari and Pravin Bhivgade.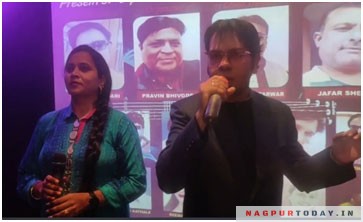 Soulful songs like Sitaron Ki Mehfil…., Na kajre ki dhar…., Zinghat Song…..,. Neele neele ambar pe…., Kahi dur jab din dhal jaye…., Abhi Jinda hun to jee lene do….,Dil hai ke manta nahi…., Jumma Chumma de…., Jo bhi Kasme khai hamne…., Pukarta Chala hu mai…., Sochenge tumhe pyar kare ki nahi…., Isq tera tadpaye….., Is pyar se mere taraf na dekho…., Dekha hai ye pahli bar…., Surmai ankhiyo me…., Dil aisa kisine mera Toda…., Ae mere humsafar….and many more song wer presented by Singers.
Dr. Sanjay Uttarwar was the Chief Guest for event.. He is having immense interest and liking to the field of music. He is a renowned Academician , Principal, Social worker and singer of our city too. He is associated with various social and cultural bodies of Nagpur. During program ,Tushar Rangari and Pravin Bhivgade welcome and felicitate Dr. S S Uttarwar and thank him for contribution to the musical world of Nagpur . In reply to felicitation , Dr. Uttarwar highlight to achievements of Swardhara gp and extend his best wishes to them. He also praise Sanjay Borkar for establishing very good studio for shows.
Organisers welcome all on line viewers for joining the program. Renowned people of Nagpurs musical world witness the program on line and extend their best wishes to Swardhara Group .
Anchor Pravin Bhivgade done his job nicely. He narrate various stories in connection with songs.
Viewers gave thanks Tushar Rangari and Pravin Bhivgade for lovely organization and extend his good wishes for future of the them. Parijat gp conduct various programs on line. , Vijay Puranik , Nalini Chauhan, Sanjay Gawai, Mr Yoganand Bopche, Mr. Rakesh Bopche , Dr. Varsha Uttarwar, Nikita Madam, Mrs. Manisha Puranik, , Sanjivani Chaudhary, , Ashish Taywde, Shri. Balpande , Manish Mukkawar , Harshali Kherche, Sanjay Gawai, and many more music lovers has joined program.
Program comes to end at 8.30 pm and music lovers moves with euphoria of sweet songs.