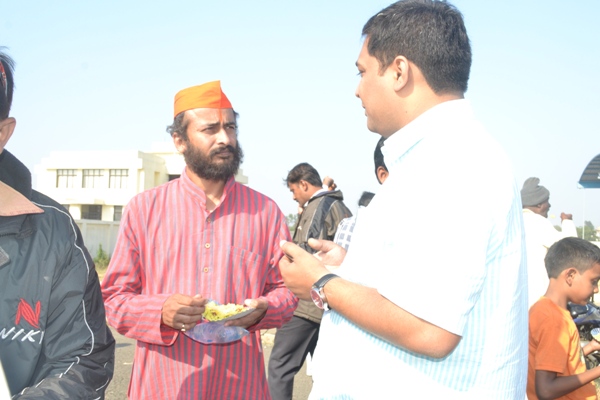 Nagpur News: Biking up all over from Kanyakumari, the southernmost capital of Kerala, covering a distance of 3000 kms, the unique bike rally – Swami Vivekananda Sandesh Yatra – received enthusiastic welcome as it reached Nagpur on Sunday. Around 23 people from Nagpur went to Kanyakumari to participate in the rally, which has been taken out to commemorate the upcoming 150th Birth Anniversary of Swami Vivekananda early next year.
The sandesh yatra was commenced on November 21 under the aegis of Swami Vivekananda Sardha Shati Samaroh Samiti and Lokmanya Sanskrutik and Krida Mandal. Twenty-three Nagpurians reached Kanyakumari by train to participate in the rally. NCP's Dalit Forum Maharashtra State President Prakash Gajabhiye flagged off the enthusiasts from Nagpur on November 18. The participants included as young as 12 years old Onkar Raman Senad to the eldest Vilas Kulkarni, 65. Advocate Raman Senad convened the bike rally while Ashish Jadhav acted as support to the convenor.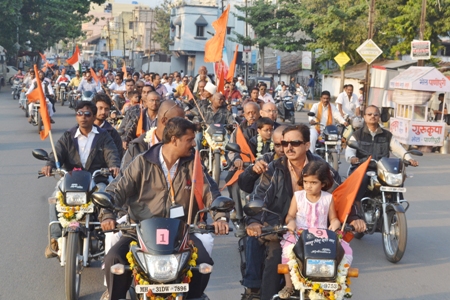 Professor Somdatt Karanjekar had earlier appealed to the citizens to gather in large numbers to cheer up the sandesh yatris, who started from Kanyakumari and headed towards Nagpur through Rameshwaram, Dhanushkoti, Madurai, Mysore, Bengaluru, Tirupati, Shrishailam, Hyderabad, Adilabad, Yawatmal and Wardha.
Before reaching Nagpur, the rally was accorded warm welcome at Vainganga Engineering College at Dongargaon, where more people from the city joined the travelers. Later, they proceeded through Khapri, Chhatrapati Square, Variety Square, Loha Pul, Tilak Putla, Gandhi Gate, Mahal, Kotwali, Zenda Square, Gajanan Square, Sakkardara Square and culminated at volleyball ground at Reshimbagh. Various social, cultural, political and educational institutions felicitated the participants at these places.  The sandesh yatris were also greeted by MLA, South Nagpur, Dinanath Padole, Mayor Anil Sole, resident deputy collector Pramod Bhusari, nagarsevika Nandurkar and others.
Those participated in the rally included Jagdish Sukare, Umendra Vathulkar, Atul Bhattalwar, Arvind Waradpande, Jitendra Bhaturkar, Mayur Durge, Prakash Khanjode, Laxmikant Jangde, Advocate Shailesh Nakade, MB Agrawal, Ravi Kapse, Suresh Bhoyar, Laxmanrao Thakre, Sudhakar Wankhede, Swapnil Warade, Rahul Raut and Nirbhay Joshi.
Tushar Muthal