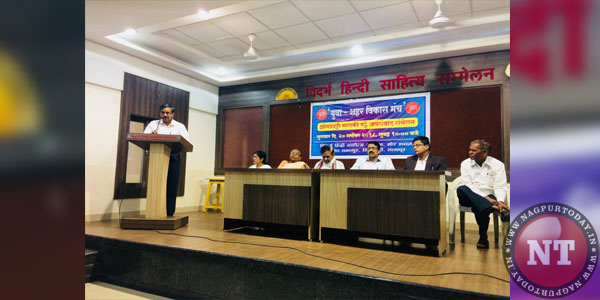 Nagpur: The city-based Shahar Vikas Manch (SVM) on Thursday conducted Jansanvad Sammelan on status and implementation of land tenure rights in Nagpur. The programme, held at Vidarbha Hindi Sahitya Sammelan, was chaired by senior social worker Roopchand Gandre.
The chief guest was Mumbai's social activist Gautam More and the session was guided by Anil Wasnik, Dr. Tambatkar, Vimal Bubble and Nitin Meshram. After the survey for ownership lease, the process of contracting and registration is underway, but in some settlements, work of survey is incomplete. In some settlements, the process after the survey has not begun. For this reason, the lease allocation and the registry are being delayed. NIT had sent Demand Notes to 935 slum dwellers, of which 600 of them have paid the dues. Among them, there are 163 slum dwellers who have got their names registered on land.
Anil Wasnik informed, with this speed, it is impossible for all slum dwellers to get the ownership lease registry. The Chief Minister Devendra Fadnavis and Union Minister Nitin Gadkari have also given instructions to speed up the process of the ownership lease still the pace is slow. The lease process has been stalled on the slums of the Collector's land and Municipal land. He further said the Government is handing over registry at lower cost. Wasnik appealed to the slum dwellers to take advantage of their land rights, to get the right of the land. He also urged slum dwellers to co-operate with the administration.
In this Sammelan, detailed information on Government's slum ownership lease policy, ownership lease process, documents required for the ownership title was shared. Gautam More, Anil Wasnik, Nitin Meshram, Rajkumar Vanjari, and Dr. Tambatkar expressed their thoughts. Proceedings of the programme were done by Nitin Meshram while vote of thanks was proposed by Shailendra Wasnik. A large number of slum dwellers were present.