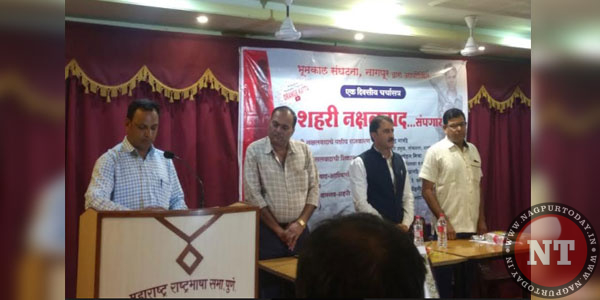 Nagpur: A panel discussion on 'Urban Naxalism' was held by Bhumkal Sanghatana at Baburao Dhanwate Hall of Maharashtra Rashtrabhasha Sabha, Shankar Nagar, on Thursday.
A senior journalist Devendra Gawande, who was one of the panel members, said that there cannot be two sections like urban and rural Naxalism. He said "Buddhi ka Bhed Buddhi se hi karna chahiye." It is the thoughts which take the face of violence on the demands of development. "We need to break the chain which is connecting and helping Maoists. If the chain is broken then eventually the moment will come to an end," Gawande said.
Organizing committee member Shrikant Bhowote said that despite low literary rate in the tribal areas, 40 % of the Naxal organizations have strong network and connections among the people which suggests that influencing people need an intellectual mind. He further informed that the first Peoples War Group (PWG) meeting was held by senior communist leader Kondapalli Seethatamaiha in Nagpur which specifies that the ideology was first created in cities and then moved to the jungles to form their army and manipulate the people from rural areas to join their hands.
Anand Mohan Mishra who hails from Naxal affected areas of Bastar district in Chhattisgarh described his experience. He said that people living in the region are in constant fear that they do not talk openly about it in their homes but if there is a proper distribution of money and power among the tribal then the violence faced by them will come down to a great extent. Mishra further added that the ongoing issue of violence in tribal areas is not taken care by the government and no one is bothered to resolve the issues.
But if a major incident takes place in urban areas then the incident gets more attention from every one. He said that "it motivates us to see that people in cities show their concern on the problems faced by the tribal people and this encourages us to stand for the right."