Sushmita adores her darling daughters to celebrate womanhood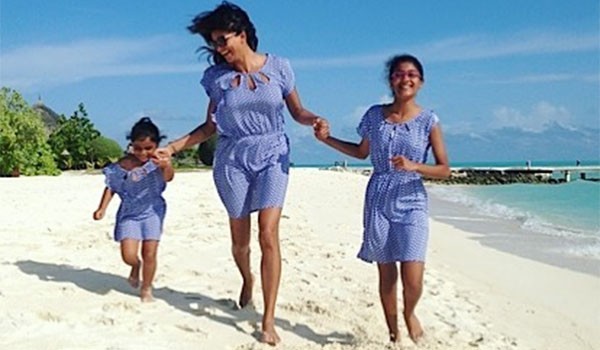 Sushmita Sen is a role model for many and one of the strongest women you would come across. She adopted daughters Renee in 2000 and Alisah in 2010. The single mother broke stereotypes and has set a lovely example for many to follow. So, as we celebrate International Women's Day today, we couldn't think of a better role model. Sushmita took to Instagram to express her love for her daughters and posted an adorable picture with Alisah as she placed a peck on her lips. This mother-daughter bonding is something you cannot miss.
Later, Sushmita shared another picture with her daughters, where she twinned with them in blue attire. This happy picture of the three, as they run on the beach, will instantly bring a smile on your face. Along with this beautiful picture, she had the perfect caption too. She wrote, "Women can't be defined generically, even when mentioned collectively!!To truly celebrate a woman, it's important to accept all 'her' nuanced differences, her innate strength, momentary vulnerabilities & yes strength again it's often said, 'women are complicated' well, imagine going through a lifetime of fast paced changes, physically, biologically, emotionally, socially…then realise, just how uncomplicated a 'woman' actually makes it all look!!! She's not perfect, but gives it 'HER' all, she's born with a heart of a nurturer, with the 'Will' to be a provider. She's #shakti not for the lack of fear but for owning courage inspite of it! She's a force of nature, that drives the seasons..no matter what the role, resilient until the very end Dugga Dugga #HappyWomensDay what a privilege to be born a woman!!! With love & kisses, Alisah, Renée & yours truly!!! love you guys!!