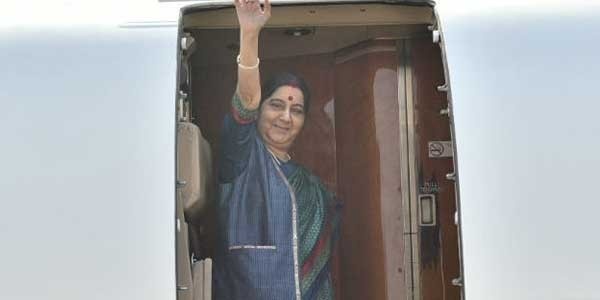 New Delhi: In a major scare, an Indian Air Force plane carrying External Affairs Minister Sushma Swaraj lost contact with air traffic control for almost 14 minutes on Sunday. Sushma Swaraj, who was traveling to Mauritius for the BRICS summit, departed from Thiruvananthapuram at 2.08 pm.
While the aircraft changed over from Indian airspace and established contact with the Male air traffic control (ATC) at 4.44 pm, it could not contact Mauritius ATC after entering Mauritius airspace, the Airports Authority of India said in a statement.
After the Mauritius ATC activated the uncertainty code "INCERFA" — used for the phase where uncertainty exists regarding the safety of an aircraft and its occupants — the flight came in contact with the Mauritius ATC at 4.58 pm and landed later.
"Mauritius ATC activated INCERFA (uncertainty phase) without allowing the stipulated time period of 30 minutes to lapse from the time when aircraft last contacted ATC. This was perhaps done because the flight was carrying a VIP," the statement said.
The other codes used in emergency situations include ALERFA (when apprehension exists as to the safety of an aircraft and its occupants) and DETRESFA (when there is a reasonable certainty that an aircraft and its occupants are threatened by grave and imminent danger and require immediate assistance).