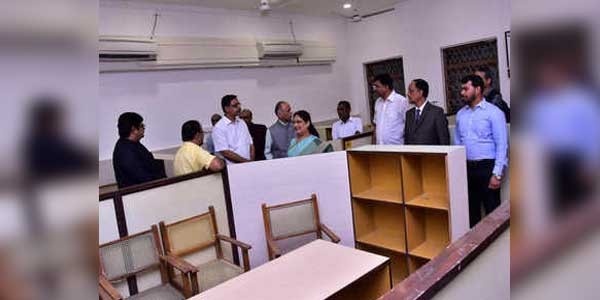 NAGPUR: Renovated bar room number two, three and four, which have all the modern facilities that will facilitate a better interaction between lawyers and litigants, were inaugurated on the high court premises on Sunday.
Senior administrative judge of the Nagpur bench of Bombay high court BP Dharmadhikari, lawyers PN Deshmukh, Atul Chandurkar and legal luminaries were present at the function organized by High Court Bar Association (HCBA).
These rooms have been renovated with monetary contribution from lawyers so that they could give time to their clients. Earlier, there was a space crunch and litigants had to wait for long to meet the lawyers. With the latest facilities, this problems would be eased to a great level.
Each bar room has approximately 50 chambers. Hygienic toilets have been built while canteen services and stationery will be provided. Library at the ground floor will also provide a ready reference to lawyers.
Speaking to Media, HCBA chief Anil Kilor said, "Though chambers have been provided to some junior practitioners as well, the waiting list is quite long. Plans are afoot to construct a separate building for them."
Advocate Ganesh Khanzode said, "There are times when working hours and time of hearings clash. Therefore, HCBA has plans to allow interaction between lawyers and litigants at the bar rooms even on Sundays. Space and a stenographer would be provided for a nominal fees."
Khanzode said, "Renovation of bar rooms was worth applauding as the lawyers contributed voluntarily and no funds were sought from the government. It is now our responsibility to maintain the chambers well."