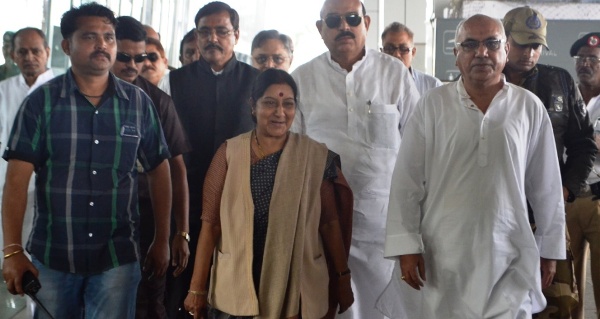 Nagpur News.
Leader of Opposition in Lok Sabha and Senior BJP Leader Sushma Swaraj arrived at Nagpur Airport on January 11, 2014. Though the city BJP unit had planned for a rousing welcome. Very few leaders were seen at the airport because the National Mayor's Conference was on at Hotel Pride. Sushma Swaraj will be addressing the Women's Rally organised by Women's Cell of BJP at Chitnavis Park.
State BJP Chief of BJP Devendra Fadnavis, MLA Sudhakar Deshmukh, Former MP Banwarilal Purohit, MLA Krishna Khopde and other office-bearers and activists of BJP were present at the Airport to receive Sushma Swaraj.
At the airport, the media tried to talk to her but she refused to talk. When asked about a survey which have projected 50-60 Lok Sabha seats for Aam Aadmi Party (AAP) thus creating a hurdle in her party's bid to capture power at the Centre.
These surveys will not come true, the leader of opposition in Lok Sabha told reporters at the Nagpur airport without elaborating.
She went to Hotel Radison Blu from the Airport and later she proceeded to Women's Rally at Chitnavis Park.