Survey on who should be candidate from South Nagpur seat creates heat, BJP feigns ignorance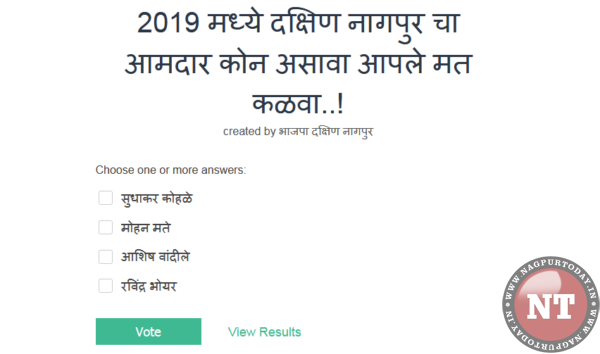 Nagpur: A curious survey has been making rounds in social media in city these days. The survey, being conducted through a website named Strawpoll, is seeking opinion of people as who should be the candidate from South Nagpur Assembly constituency in 2019 State Assembly election. Interestingly, neither the political parties nor the leaders whose names are being surveyed are aware of the so-called survey. The current MLA from this seat is Sudhakar Kohale who is also President of City BJP. Kohale is close aide of Union Minister Nitin Gadkari and has been assigned the responsibility of running party affairs on becoming MLA for the first time.
The survey is being conducted in the name of South Nagpur BJP. But the city BJP President is totally unaware as to who is conducting the survey, its motives, When contacted, Kohale feigned ignorance about any survey. BJP and Survey go shoulder to shoulder. A recent survey over the working of current party MLAs and MPs in the state had sparked heated discussions. Hence whether the survey is true or bogus or a party leader staking claim for candidacy or a leader assessing his or her popularity or pressuring the party for ticket is in dark.
The survey is giving four options to select one name. The names are – Sudhakar Kohale, Mohan Mate, Ashish Vandile and Ravindra Bhoyar.
Sudhakar Kohale is currently the MLA from South Nagpur constituency. He will be fielded again is almost a certainty. Mohan Mate was former MLA from this very seat and hankering for the ticket, too. Ashish Vandile is an office-bearer of the party. Ravindra Bhoyar is currently Corporator and desires to contest the Assembly poll if given chance.
Nagpur Today sent the link of the survey to both Kohale and Mate on their mobile phones and sought their reactions. Mate said he is not aware of such survey being conducted. There might be possibility that some names included in the survey could be indulging in such exercise to gauge their popularity. "I am not concerned with the survey in any way," Mate clarified and added that he is hearing about the survey for the first time.
In the survey, apart from the option on the names, there is also option for watching result of votes polled. On Friday till 6.4 pm, according to option result, Mate was leading with 263 votes out of 385 votes in his favour. It means Mate got 68.31 percent votes. The current MLA Sudhakar Kohale was second choice as received only 99 votes despite being the City BJP President. He could not garner even 50 percent of votes received by Mohan Mate. The percentage votes polled to Kohale is just 25.71. Ravindra Bhoyar was poor third with meagre 15 votes – 3.9 percent. As expected, Ashish Vandile was at the bottom of the choice option. His share of votes was 8 or say 2.08 percent.
Commenting officially on the survey, party spokesman Chandan Goswami rubbished the survey as bogus one. "The party neither conducts any survey nor get done by any agency. Party is totally unaware of who is conducting the survey and its motive," he stated.