Suresh, popularly called Bobby, with his inventions of iVoyage,  a system for retrieving real time information about the location, distance travelled, fuel consumed, expiry details of vehicle accessories, expiry of insurance of a truck and the sophisticated Empower battery that could change the face of transport industry.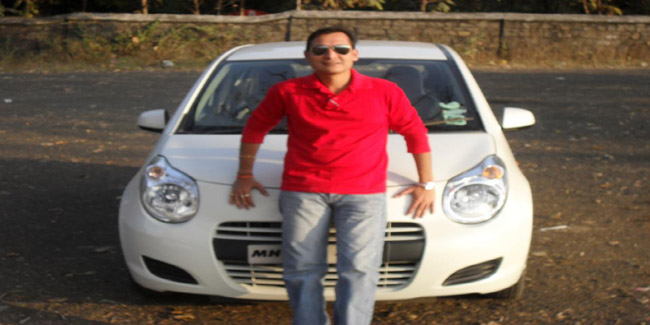 Nagpur News: "I believe in innovation and that the way you get innovation is you fund research and you learn the basic facts." –Bill Gates
The words in the brilliant quote, it appears, a man of full energy, ambitions, and a prestigious place in the society. Suresh Sharma, popularly called  Bobby Sharma among his friends and business circle around Nagpur.  The 38-year old Bobby is in transport business since 20 years and being a second generation entrepreneur he has seen it all that's happening in transport Industry.
Bobby's father Nandlalji Sharma, who was a truck driver then, drove into Nagpur from Himachal Pradesh,  started his own business in Nagpur and eventually settled downhere. Bobby, from his childhood days was curious about technology. Unlike other children he was least interested in playing sports or roaming with friends, instead he used to spend more time in playing with electronic goods, TV, camera, batteries, vehicles.
Bobby was interested in learning science and went to Ferguson Collage in Pune. But as he has to look after his family business he came back to Nagpur, completed his graduation in Commerce Stream from Hislop College and started working in his father's business.
As Bobby got involved more and more in business he started learning about the problems faced by people in this Industry. According to him, lack of use of proper technology in transport sector is the biggest cause for downfall of Indian transport Industry. Using new technology is either too costly, small players in industry can't afford it or it's too complicated to be used by drivers of vehicles. Bobby, well-apprised of all aspects of the business, hit the calculators to fifure out the financial impact to transporters due to delay in delivery, and due to non performance of vehicles. He was shocked by the figures that came out.  According to him, all the flaws in transportation were eventually resulting in national loss.
Bobby was not the person who will simply sit idle and crib about it. So he decided to do something innovative, which could transform the current scenario in transport industry. Given his passion and curiosity about technology, he started researching about how he can improve performance.
Somewhere around 2005, Bobby stuck with an idea that if he can track his vehicle's position that can make huge difference in following delivery schedule.  He says, tracking devices available in market are very expensive and unable to deliver value to the end user. So he decided to develop a tracking device which will be simple to use as well as affordable to even a single vehicle owner.
And, Bobby, armed with all his ideas of innovation  shared his mind with his friend Abhijeet Thakur, who is a software engineer in Mumbai and shares the same passion. He also got hold of Pravin Dwaramwar, who is an associate professor at Ramdeobaba College of Engineering in Nagpur.
In 2009, after a long journey of struggle and hurdles they finally developed world's most cost effective vehicle tracking solution, iVoyage.
iVoyage is a system for retrieving real time information about the location, distance travelled, fuel consumed, expiry details of vehicle accessories, expiry of insurance etc. According to him, iVoyage owner can save up to Rs 95,000in a year on a single truck, and it is going to revolutionize the multi-crore Indian transportation industry in the future.
In meanwhile, Bobby got various ideas that could change the face of transport industry, one of them is his latest innovation named Empower.
Empower as the name suggests is a battery life enhancer device which also brings old batteries to life. This product is built on unique Chopping Wave Technology (CWT). Bobby claims that his product has the capacity to double or sometimes triples the battery life. It is very simple to install. It has a product life of 20 years and also it gives audio display of battery's current status.
Most important thing about his products is it is eco friendly. It protects environment by reducing lead disposal. His products are now not only benefiting transporters but to every sector where batteries are used.  To develop this product he and his team went through a lot struggle, according to him the current product is the result of their 58th attempt to develop the similar product.
Bobby, along with his friends formed a Company named Dhruvv Transnet Pvt. Ltd. He named this company after his son as he believes everything has started happening with his son's birth. The company till now has four patents under their name and few are in process to get patented. They have set a manufacturing and research unit in Nagpur.
Bobby sits with his 80-year old father in his office at Transport Nagar and proudly says that his research work is still on and he will acquire some more patent in coming years. He gives credit of his success to his friend Abhijeet Thakur and Pravin Dwaramwar who is now technical director of Dhruvv Transnet Pvt. Ltd.  Without Abhijeet & Pravin I wouldn't have succeeded to this kind of inventions, mentions Bobby Sharma.
His customer like Ajay Dhawangale, whose company provides city bus services in Nagpur, rates his products very high. He further states that Dhruvv transnet has solved of problems with revolutionary product like Empower. His patents are also recognized by an American website that publishes patents that are of help for masses. His company is in discussion with many manufactures in automobile industry to develop products using his innovations.
For more details, interested may contact Suresh Sharma, Director, Dhruvv Transnet Pvt. Ltd at E/2, Transport Nagar, Wardhaman Nagar, Nagpur. (Phone: 7775998881, 9371643666, 9922948625).