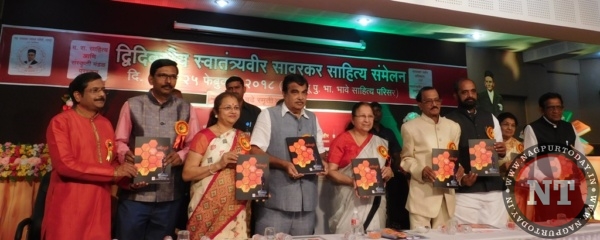 Nagpur: It is the need of the hour to reach people the concept of 'Swatantryaveer Savarkar keeping an ideological view of the world, said Union Minister for Road Transport, Highways Water Resources Nitin Gadkari, said. He was speaking at two day Swatantraveer Savarkar Sahitya Sammelan today.
The sacrifice of Savarkar and his family is incomparable in Indian history. Savarkar believed that the nation should be built on the Indian style of life. Late Savarkar's view was that it is necessary to reach the new generation through social reform such as literature gathering, song, film and drama, Nitin Gadkari.
Swatantryaveer Savarkar Committee Nagpur and Maharashtra State Culture Board has jointly organised the two day Swatantraveer Savarkar Sahitya Sammelan in cultural hall of the local Vidarbha Sahitya Sangha.
Lok Sabha Speaker Sumitra Mahajan, Union Minister of State for Home Affairs, Hansraj Ahir, President of Literary meet, Senior Literatteur Dr V S Jog and Reception Committee President Kanchan Gadkari were present on the occasion.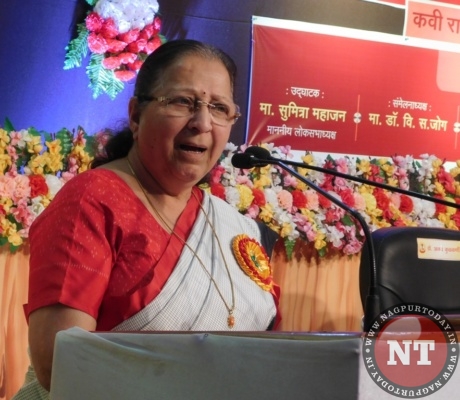 In her inaugural speech Lok Sabha Speaker Sumitra Mahajan said that this platform is a opening for Savarkar literature and is an open platform for ideas. Savarkar was a literary person who was a true patriot. The beauty and imaginative views that appear in his poems give a glimpse of his outstanding literary attitude.
For the revolution in Russia, the literary power of the new generation was strengthened. Savarkar applauded this revolution as a 'life revolution'. Savarkar, who was such a composite personality, was inspired by artists from Indian literature, Dr Jog expressed in his presidential speech.
A seminar will be organised on the theme of Ekatmata, Samarasata, 21st Century and Savarkar Samachar and all-round Yugpurush Savarkar. This literary should not only be a celebration but should also be thought-provoking and reach Savarkar's thoughts to the youth. This is the main objective of planning the meet said Kanchan Gadkari.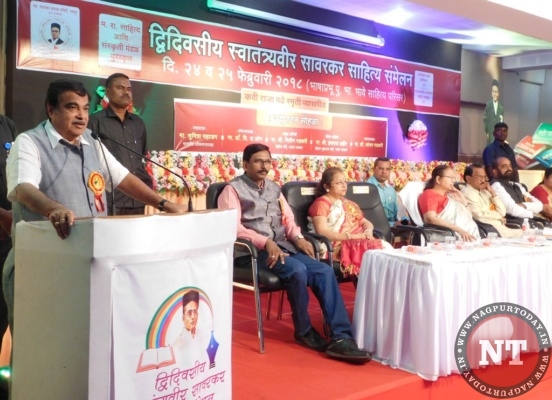 On this occasion, the special issue of Sammelan 'Jayostute' issues was released at the hands of chief guest. The concluding session of the two-day Swatantryaveer Savarkar Sahitya Sammelan will be held on February 25, at 3.30 pm and the Shivakathakar Sadgurudas Maharaj will be presented the Swatantryaveer Savarkar Gaurav Award.
The representatives of Savarkar Darshan Pratishthan, Mumbai, Swatantraveer Savarkar Committee, Nagpur, Swatantraveer Savarkar National Memorial, Mumbai, as well as local citizens were present in large numbers. Vivek Aloni and Dr. Shubha Sathe conducted the sessions of inaugural programme.