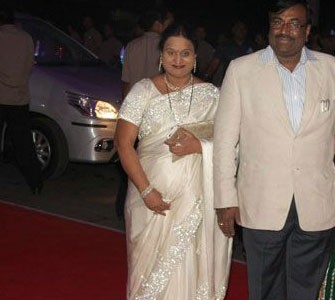 Tirupati/Chandanpur: The nomination of Sapna Mungantiwar, spouse of prominent BJP leader and Maharashtra Finance Minister Sudhir Mungantiwar, to the Tirumala-Tirupati Devasthanams Trust Board (TTD) has lent credence to the speculation that the Telugu Desam Party has left a door open while stepping out of the NDA, should the need arise for joining hands with the saffron party in future once again.
Interestingly, Mungantiwar's appointment as one of the members of the TTD Board came on Friday, the day when Chief Minister N Chandrababu Naidu went on a day-long fast in Vijayawada, calling Prime Minister Narendra Modi to account for the promises broken. Nandamuri Balakrishna, who gave his daughter in marriage to Chandrababu Naidu's son Lokesh, slammed Modi in borrowed Hindi, igniting a rash of protests from BJP leaders who even lodged complaints against him in police stations.
Quick to spot the odd appointment of Swapna to the board was the CPM leader Kanadarapu Murali, who said her nomination had proved that Naidu's round-the-clock onslaught on the Centre may, after all, is a sham and that the TDP may still be having a relationship, albeit, sub rosa, for the Telugu Desam Party to work out future alliances.
Murali said: "Though the two parties said they parted ways, but their clandestine relationship is still continuing." Tirupati YSRCP MP V Vara Prasad also put his finger on the unusual appointment: "I suspect there is a collision between the TDP and the BJP. I cannot rule out corruption angle in this appointment either," he said.
Fuelling speculation that the TDP might cosy up to the BJP in the near future if the Centre takes any favourable decision in regard to Andhra Pradesh, Anantapur Telugu Desam MP has recently said that he cannot rule out coming together of the two parties in future and said that present fight against the BJP was only to secure special category status indicating that in all other aspects they are game with the saffron party. Lending muscle to this argument are the reports that are emanating from Delhi that the BJP is also viewing allowing estrangement of the TDP as a tactical mistake on its part.
Her appointment to the board cannot be called a war of attrition in its true sense as of now but it is indicating a possibility that both the parties are not as sworn enemies as the leaders are making at the moment.