A socially conscientious hotelier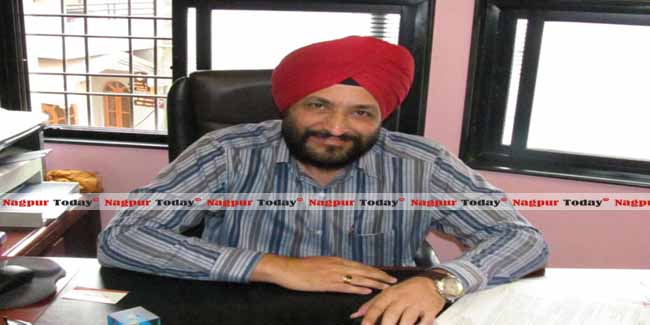 In an exclusive interview with Nagpur Today,  Tejinder Singh Renu, Secretary of Nagpur Residential Hotel's Association and Hon.Secretary VTA,  said that in a country where every citizen is expected to know 3000 odd laws (including amendments, corrections, exceptions etc) of the country and where ignorance of law is not an excuse, everybody should learn Law. According to him, Law as a subject should be included in our schools instead of History or Chemistry. Lack of legal knowledge will cripple you and various governmental authorities will oppress you.
While talking about Residential Hotels in the city, he said that business is not good. In fact last year was a bit better. He added that economic slowdown, lapse of major projects like MIHAN that would have attracted businessmen and people to visit the city were some of the major causes for the deteriorating revenue of Residential Hotels in the city. According to him, Nagpur is not a tourist destination, so business is the only reason for visitors to visit city and stay in hotels.
So how are the Big residential hotels surviving or earning revenue? Renu said that the Hotels are surviving by Banquets or Parties only and not by room-tariffs. Many big Star Hotels in the city have not even achieved the projected revenue which they had planned before construction or launch in the city. All this because, major revenue, employment and business generating projects have come to a stand still or have lapsed its worthiness. He added that MIHAN was one of the prime attractions for almost all Hotels on Wardha Road.
Who is to be blamed for this situation? Tejinder Singh Renu says local leaders are 101 per cent responsible for this kind of situation. They should have used all their influence and contacts immaterial of any political party to attract investors to the city. They should have created favourable factors for all local governmental clearances and in land acquisition etc. This would have ensured that our city prospers, more employment opportunities would have been created, and more revenue would have been earned by many local businessmen. He added that the "Advantage Nagpur" project is not going to help in any way. Unless each and every project is converted from mere documentation to implementation in coordination with all local departments jointly, nothing will yield fruits.
He expounded how the ambitious Tata project was taken away to Gujarat by a mere SMS of "Welcome" by the Chief Minister of Gujarat Narendra Modi.
Coming back to the causes of revenue losses to Residential Hotels in the city, he said that Maharashtra Government has hiked the minimum wages of employees working in Hotels and Restaurants by 40 per cent from June 2013. Paying hefty salaries even when there is no significant earning in room-tariffs is pinching the purses, he added.
One of the major hassles, which the city hoteliers are facing, is regarding the licenses. According to him licenses of 127 Hotels are still pending for renewal with the Police department.
Tejinder Singh Renu said that the Police have held up the renewal of Licenses for the past so many years. Even when there is no law or rule that makes it mandatory for Hotel owners to get an okay from the fire department, before renewing the licenses, the Police have kept all the licenses of 127 hotels pending. The Police authorities demand orally that get fire department's okay before applying for renewal of the licenses.
Now the requirements of the Fire Department are so stringent that the old hotel owners cannot adhere to them. The newly constructed ones or those which are under construction can adhere and make suitable arrangements to comply with the terms of Fire Department. However it is next to impossible for owners of old Hotels to comply with the strict requirements of the Fire Department. For example, the Hotels are required to have an overhead tank with at least 5000 litres of water storage capacity to extinguish a fire in case of an emergency. One thousand litres of water is equivalent to one ton. Therefore five thousand litres of water is equal to five tons. Making an overhead tank to host five tons of water may result in collapsing of many existing old structures of Hotels.
In such a situation, how can the hotel owners function? The Hotel owners of old structures have even agreed to comply with some of the terms or conditions of the Fire department by making changes from outside or minor alterations. Yet the Fire department is adamant in refusing to give okay to such hotels. This in turn is deferring the Police department from renewing licenses.
What is surprising is that similar problems are not faced by the Hotel owners in the rest of Maharashtra. Not even in places like Amravati, Aurangabad, Akola, Pune, Mumbai etc. Only in Nagpur, is the Fire-department and the Police authorities playing this game of hard-to-get. Are the authorities hand-in-glove to fleece the Hotel Owners or to make their life miserable is anybody's guess.
The Secretary of Nagpur Residential Hotel's Association Tejinder Singh Renu is a true Sardarji. He is socially conscientious and is ever-ready to fight for the oppressed. He is ever-ready to lead any delegation to represent problems of denizens, road-users, tax-payers, traders, industrialists etc.
He started working in his father's hotel business when he had just finished his XIIth class. He has since completed his post-graduation. Presently he is also in the first year of LLB.
His family including his father and his brother all live together and do their family business of Hotel and Constructions. One of the ambitious plans that the family has is coming up in Civil Lines area. The plans to construct a 3-star hotel is underway. He said that they intend to make a revolving restaurant on top of their Hotel. This may become the star attraction of the city.
Tejinder Singh Renu is a happily married man. The lady behind this successful man is Seema Tejinder Renu. He has three children; two daughters and one son. The elder daughter Sahiba Renu is pursuing her IInd year B.Com with CA, The second daughter Reshma Renu is in IX standard and son Agamveer Singh Renu is in the Vth Standard.