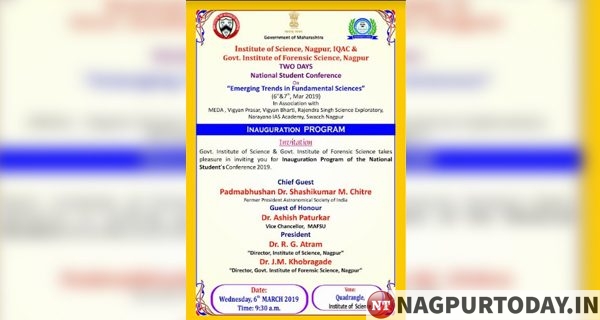 Nagpur: 'Institute of Science' and 'Government Institute of Forensic Science' Nagpur has joined hands and has organised a two-day National Student's Conference (NSC-2019) on March 6 and 7 at Quadrangle 'Institute of Science' from 9:30 am onward.
The theme for the conference is "Emerging Trends in Fundamental Sciences".
The conference will be inaugurated by Padmabhushan Dr. Shashikumar Madhusudan Chitre along with other eminent speakers like Dr. Ashish Paturkar (VC, MAFSU), Dr. Jatinder Yakhmi (Former Chairman, BARC), Dr. A. D. Sawant (Former VC, Rajasthan University), Dr A. S. Muktibodh (Mathematician), Dr. A. K. Singh (Former Dean, IIT Bombay), Dr. Arvind Ranade (Vigyan Prasar), Dr. Shashikant Chaudhary (CS,VNIT), Dr. Surendra Gole (Statistician) will guide the students.
The conference aims 'to provide a platform to students across the country and to exchange and incubate their ideas which will lead to enhancement of their research skills.' The students will also showcase their research work in the form of oral and poster presentation under various themes like chemical sciences, medicinal chemistry, quantum mechanics, instrumental technologies, life sciences, mathematical and statistical sciences, physical sciences, information technology, forensic sciences, solar energy. There will be prizes for the winners in different categories.
The detailed information is also available on the website www.iscnagpur.ac.in & www.ifscnagpur.in