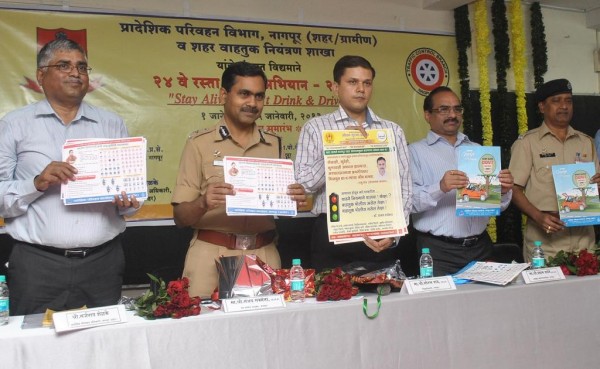 Nagpur News: In view of the rising number of accidents in the roads of Nagpur, Municipal Commissioner Shyam Wardhane wants every citizen to be well aware of road safety, and is of the opinion that the Regional Transport Office (RTO) must send its officers to every school in the city to educate students about road safety rules. Wardhane voiced this opinion at the inauguration ceremony of the 24th Road Safety Week at the RTO office in the city.
Nagpur District Collector Saurabh Rao, Joint Commissioner of Police Sanjay Saxena, Deputy Commissioner of Police (traffic) J. D Dabhade were prominently present on the occasion.  Wardhane further said that the rapidly growing traffic in the city is responsible for rising accidents in a big way. "Traffic rules must be implemented strictly to put a stop to these accidents", he said, "RTO should issue licenses only when the applicant is able to drive perfectly. Any small mistake or imperfection in driving should be reason enough to not issue a license".
Collector Rao laid the responsibility upon drivers, saying that every individual on the road should strictly follow traffic rules themselves, to ensure that the roads stay accident- free.
Deputy Commissioner J B Dabhade guided those present through common traffic and road safety rules.Rahul Vagh from the Jeevan Raksha Project, Deputy Regional Transport Officer Sahebrao Badhiye, RTO Prabhakar Bhalerao and others were present.