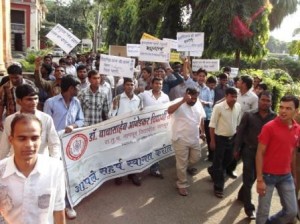 Nagpur News: Around two hundred and fifty students of Nagpur University went on protest in front of the administrative wing of RTM (Rashtrasant Tukadoji Maharaj) Nagpur University, demanding restoration of previous library hours and condemming "discriminatory" remarks of the Vice Chancellor Vilas Sapkal against students of Humanities.
Students also protested hike in fees after the introduction of the semester system, lack of drinking water in the library and undue harshness of authorities regarding student identity cards. The protest was organised by Br. Babasaheb Ambedkar Vidyarthi Sangathan, a non- political student body in the city.
The protesting students, mainly hostelites across different streams and batches of the University, demanded an impromptu audience with Sapkal, ignoring his request for a private meeting with a few representatives. They were protesting the reduction in open hours of the previously 24- hour campus library to four hours per day. The library will also remain shut on second and fourth Saturdays of each month, as well as public holidays. When a few students approached Sapkal with the issue, he reportedly told them that since Humanities students don't need more than four hours of study every day, it was hardly a matter of concern. This was the latest in a series of grievances that students had against the University administration, and was the trigger for the protest.
The other main issue was the 30% hike in college fees over one year, which is far above the prescribed hike rate. While most students applaud the introduction of the semester system, they had been expecting a reduction in fees because of it. Students now have to pay Rs. 800 per semester, and consequently Rs. 1600 annually, for core courses.
"Students who live in hostels have always preferred to study in the library till late; it's far more convenient than studying in our rooms. Now, we have to restrict our research and reference to a few hours. It's a big inconvenience," some students of Linguistics told Nagpur Today, "Moreover, the water filter in the library broke two months, and students now have to walk to an SBI branch some distance away to fill their bottles every few hours. Studying should not be made this difficult".
"Even students that the guard sees every day are turned back at the University gates if they ever forget their I- card," they added, "It is quite difficult for ex- students or aspiring students to enter, as well. Why would you treat your own students like this?"
A few members among the protesters finally agreed to meet with the Vice Chancellor in his office in the evening. Updates from the meeting are awaited.
– Meghna Maumdar